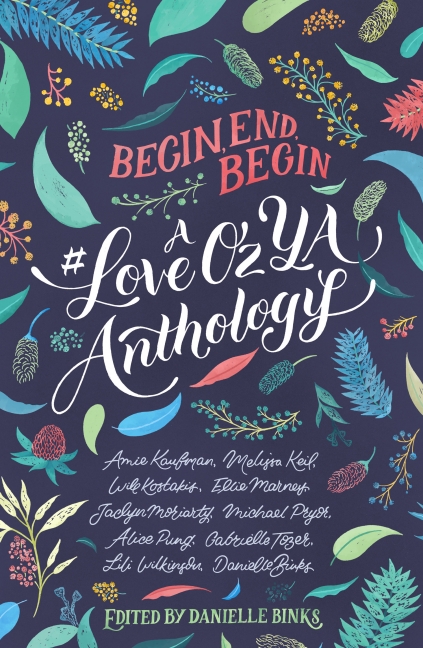 Title: Begin, End, Begin
Author: Danielle Binks, Amie Kaufman, Will Kostakis, Alice Pung, Michael Pryor, Melissa Keil, Ellie Marney, Lili Wilkinson, Gabrielle Tozer & Jaclyn Moriarty
In: Begin, End, Begin (Danielle Binks)
Rating Out of 5: 5 (I will read this again and again and again)
My Bookshelves: Australian authors, Contemporary, Short story collections, Young adult
Dates read: 30th June – 26th November 2020
Pace: Slow
Format: Anthology
Publisher: HarperCollins Publishers
Year: 2017
5th sentence, 74th page: I couldn't imagine what they'd think of Diamond Rose Fashions.
Bestsellers. Award-winners. Superstars. This anthology has them all.
With brilliantly entertaining short stories from beloved young adult authors Amie Kaufman, Melissa Keil, Will Kostakis, Ellie Marney, Jaclyn Moriarty, Michael Pryor, Alice Pung, Gabrielle Tozer, Lili Wilkinson and Danielle Binks, this all-new collection will show the world eactly how much there is to love about Aussie YA.
This is a fantastic collection, one that I wish was around when I was finishing high school. It's all about those moments on the cusp of adulthood when the world is stretched before you and you're suddenly responsible for yourself. It's kind of a huge, pivotal point in someone's life, so a collection on this was completely fantastic. And although I'm not exactly that young anymore, this was still a great journey that reminded me of the decisions we make in life.
I love that #LoveOzYA has come up with a collection of Aussie YA authors. This, and Kindred have introduced me to so many new and wonderful authors to fill my shelves with. Something that I'm always looking for. And the fact that they're homegrown and often write about the areas that I'm more familiar with? It's very, very much appreciated. I hope that they come out with a new collection soon!
I didn't know any of the authors in this collection, other than Melissa Keil when I bought it. Now I have a handful of amazing new Australian authors to add to my wish list. Some that will challenge me, some to enthral, and some just to leave a giant smile on my face.