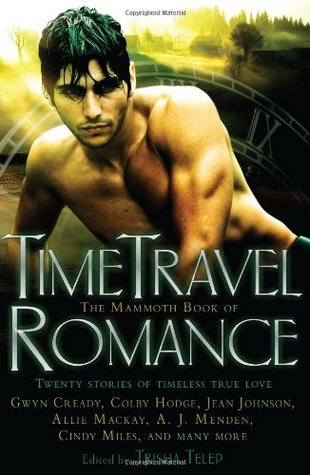 Title: The Mammoth Book of Time Travel Romance
Author: Trisha Telep, Gwyn Cready, Sandy Blair, Maureen McGowan, Sara Mackenzie, Margo Maguire, Sandra Newgent, Michelle Maddox, Patrice Sarath, Jean Johnson, Patti O'Shea, Autumn Dawn, Holly Lisle, Cindy Miles, Michelle Willingham, Colby Hodge, Michele Lang, Madeline Baker, Allie Mackay & A. J. Menden
Series: Mammoth Books
In: The Mammoth Book of Time Travel Romance (Trisha Telep)
Rating Out of 5: 4.5 (Amazing, but not quite perfect)
My Bookshelves: Romance, Science fiction, Short story collections, Time travel
Dates read: 11th April – 30th December 2019
Pace: Medium
Format: Anthology
Publisher: Robinson
Year: 2009
5th sentence, 74th page: She glanced over her shoulder, towards the light left on in her home, as if to remind herself she wasn't so very far from safety.
Time has no meaning for true love.
Twenty tales of swachbuckling adventure and passionate romance from some of the most exciting names in romantic fiction, including Margo Maguire, Autumn Dawn, Sandy Blair, Michelle Maddox, Patti O'Shea, Holly Lisle, Kimberly Raye and Madeline Baker.
Join the heroines in this delightful anthology as they step backwards – or forwards – in time, transported to the Scottish Highlands of yesteryear, the Wild West or the distant future. Propelled through time into situations rich with possibility and fraught with danger, these sexy, sassy heroines each seek their dreamed of happy ending.
Will souls separated by time be reunited – or separated, forever?
This is an absolutely brilliant collection. I haven't read any time travel romances before. So it was kind of nice to read a whole collection of them. I do have a few full length novels in this genre sitting on my shelves ready to go though. Now that I've read this collection, I kind of can't wait!
Even though all of these stories featured time travel and romance in some way, shape or form, the themes and messages throughout were vastly different. The stories weren't overly lustful like many of the romances that I've read. Actually, there tended to be more of a focus on the romances and the finding true love message. Or just on the ways in which time travel actually works.
The stories were generally a mix of present and past; or present and future. Only one or two stories feature the past and the future, but most had a great blending of realities. Sometimes characters ended up back in their own time, sometimes in a different time that fulfilled their greatest desires. There really was something for everyone in this.
Whilst I absolutely adored this collection, it isn't one that I will probably read again and again. As much as I loved everything, there was nothing that stood out as a story that I wanted to reread.