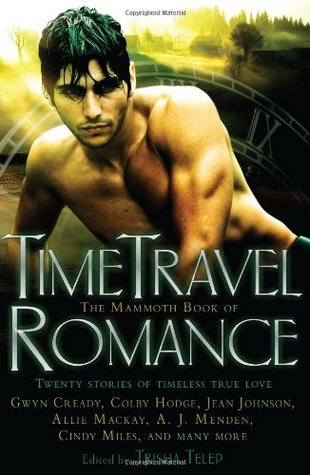 Title: The Key to Happiness
Author: Gwyn Cready
In: The Mammoth Book of Time Travel Romance (Trisha Telep)
Rating Out of 5: 5 (I will read this again and again and again)
My Bookshelves: Contemporary, Romance, Time travel
Dates read: 11th April 2019
Pace: Slow
Format: Short story
Publisher: Robinson
Year: 2009
5th sentence, 74th page: Kate nodded and shook P.J.'s hand.
Kate thinks she's met the man of her dreams, but then a visitor from the future comes and asks her to make the ultimate sacrifice. Could he be the key to her true happily ever after?
This didn't quite go the way I had expected. I was expecting Patrick to be Kate's lover and to try to stop her from being attacked or something horrible on the night that he returns to visit her. Maybe I've just been watching far too many crime shows. So it was kind of nice to find that that wasn't the tale of this at all. That it was a far sweeter, simpler and more beautiful story than I had ever expected.
For the first story in a collection of time travel romances, this was a great way to start off the collection. Not only is the setting of a wedding a fantastic way to set a romance vibe, but it was also a soft and gentle version of time travel. Rather than travelling back or forwards hundreds and thousands of years, but a mere thirty-odd. The softness and relativity of this travel is a great way to ease you into time travelling, something that I honestly haven't had much to do with yet, and not a genre that I would even claim to know much about. But now I can't wait to find out more.