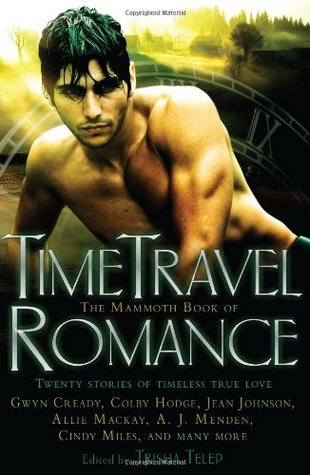 Title: Time Trails
Author: Colby Hodge
In: The Mammoth Book of Time Travel Romance (Trisha Telep)
Rating Out of 5: 4 (Really good read!)
My Bookshelves: Romance, Science fiction, Time travel
Dates read: 17th December 2019
Pace: Slow
Format: Short story
Publisher: Robinson
Year: 2009
5th sentence, 74th page: Its head hung limply and its body trembled with weakness.
A rip in the fabric of time has sent her back in time from 2143 to 1886. The man she meets there might just be everything she's ever dreamed of… but what will she do with him?
There's a fairly big time gap in this short story. Alright, it's a time travel short story, so you know that there's going to be some kind of gap… but 1886 to 2143 just seemed intense. Probably because most stories I read with time travelling involve the past or the future, and the present. Not both past and future. However, it was kind of fun. I enjoyed the departure from what I'm beginning to consider as normal for something a little bit more intense and difficult to put down.
Normally I like open ended short stories. They give you the ability to decide what you think has happened. Or the possibility for another, longer story in amongst it. However, this one was just a little too open. There must have been consequences for their actions, but it's never even thought about. I love rebellious characters who make their own future. But they're only so awesome because they face the consequences knowingly. Not so much in this story…
Having said that, this short story still left me with lots of happy, nice, gooey feelings. It was just a sweet and easy story. One that I don't feel the desire to be a longer tale, but enjoyed my time with. A nice, easy read when I needed a quick break from my thinking work…