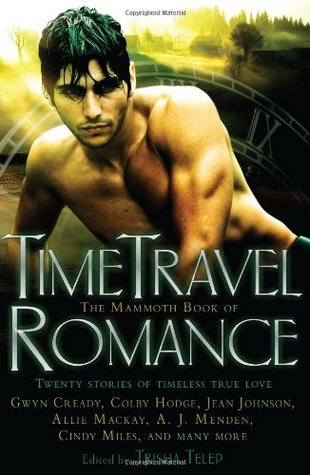 Title: Last Thorsday Night
Author: Holly Lisle
In: The Mammoth Book of Time Travel Romance (Trisha Telep)
Rating Out of 5: 5 (I will read this again and again and again)
My Bookshelves: Contemporary, Romance, Time travel
Dates read: 29th November 2019
Pace: Medium
Format: Short story
Publisher: Robinson
Year: 2009
5th sentence, 74th page: They changed me.
She's part of a writers group. And she really enjoys their company. But one night, a strange man decides to join and takes a little bit too much interest in her. It turns out that he's a time traveller and what he has to tell her about the future may tear her world apart.
I should be part of a writers group. But I should probably also write my own work a lot more than I do. There is something about doing a PhD that completely removes your ability to get much of anything else done. Reading and writing reviews is the extent of it at the moment. But, I digress… in this short story, I loved the idea of a writers group being the primary setting of the story.
One of my biggest fears in not only my personal writing, but also my academic writing is putting in all of the work for someone else to take advantage of it. There is just something a little too relatable to this storyline and the idea of her work being stolen that made me feel the heeby jeebies from the very beginning. The fact that this was done through a brutal murder was just terrifying and skeevy.
I loved that ultimately, there is a choice between guaranteed fame, and an unknown, but highly potential future. Eventually, there is a choice between the love of millions and the love of one. A superficial love, or one that knows her to her core. Such a great story.