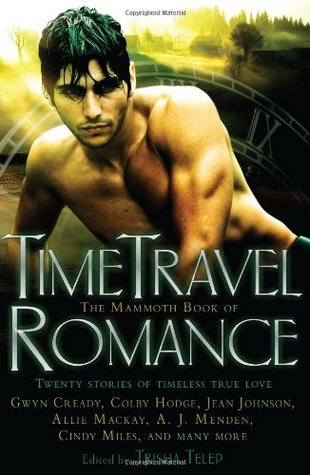 Title: Falling in Time
Author: Allie Mackay
In: The Mammoth Book of Time Travel Romance (Trisha Telep)
Rating Out of 5: 3.5 (Liked this)
My Bookshelves: Scottish romance, Time travel
Dates read: 30th December 2019
Pace: Slow
Format: Short story
Publisher: Robinson
Year: 2009
5th sentence, 74th page: He couldn't see her – she was lying behind him, her full, round breasts pressing against his back.
She thinks that she's just imagining the lead male in her book. But then she starts kissing him. And seeing him in the daytime… maybe there's a little bit more to this than she realised.
I absolutely loved that this story features a writer who is having very vivid imaginations about her lead character. And that was about the extent of my love for this story. I kept rereading parts of this story in total confusion. Like, total and utter confusion. Wasn't entirely sure how this was working and what was going on.
About halfway through I started to get what was actually going on though. And I kind of like the idea of soul mates. With the time travelling aspect being something which only happens because they're soul mates. Ones who were accidentally born in the wrong time and need divine intervention to finally come together.
Eventually I got into this story and did enjoy it. It might not have been my favourite short story, but it was definitely one that was thoroughly enjoyable.