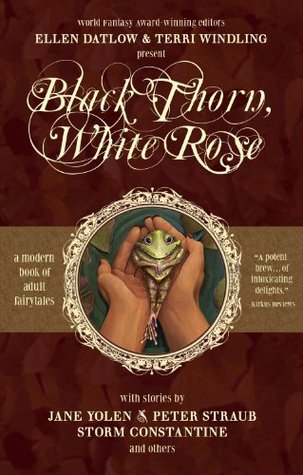 Title: Black Thorn, White Rose
Author: Ellen Datlow, Terri Windling, Nancy Kress, Patricia C. Wrede, Ann Downer, Daniel Quinn, M.E. Beckett, Michael Kandel, Michael Cadnum, Lawrence Schimel, Isabel Cole, Tim Wynne-Jones, Midori Snyder, Jane Yolen, Howard Waldrop, Roger Zelazny, Peter Straub, Ellen Steiber, Storm Constantine & Susan Wade
Series: Adult Fairy Tales #2
In: Black Thorn, White Rose (Ellen Datlow & Terri Windling)
Rating Out of 5: 5 (I will read this again and again and again)
My Bookshelves: Fairy tales, Retellings, Short story collections
Dates read: 12th February – 25th May 2020
Pace: Medium
Format: Anthology
Publisher: Prime Books
Year: 1994
5th sentence, 74th page: Thank you for your last letter, which reached me before I set off.
The award-winning editors of II Snow White, Blood Red II return us to distinctly adult realms of myth and the fantastic with eighteen wondrous works. From Roger Zelazny's delightful tale of Death's disobedient godson to Peter Straub's blood-chilling look at a gargantuan Cinderella, here are stories strange and miraculous that remold our most cherished childhood fables into things sexier, more sinister… and more appealing to grown-up tastes and sensibilities.
After reading Snow White, Blood Red, I knew that I needed the other books which were edited by Ellen Datlow and Terri Windling featuring fairy tale retellings. Because these aren't the retellings that you would expect. And they're not the kinds of retellings that make you feel all nice and fluffy on the inside. They're dark and twisted in places. Sexual in others. And just downright make you think most of the time.
Many of the authors in this collection are ones that I have already come across. Which is something I most certainly enjoyed. A few were totally new to me. Enough to make me wonder who I would be coming across next, but not so much that I felt like I had a whole slew of new people to add to my shelves. Rather, it was a fair few authors who are already in my wishlist…
I love the constant returning to fairy tales that were reminiscent of the Grimm Brothers. It's a nice little departure from the more common fairy tales that I find. And other than Rumpelstiltskin and Red Riding Hood, the vast majority of these fairy tales were of the lesser known variety. Which suited me perfectly. I like those more abstract stories at times.