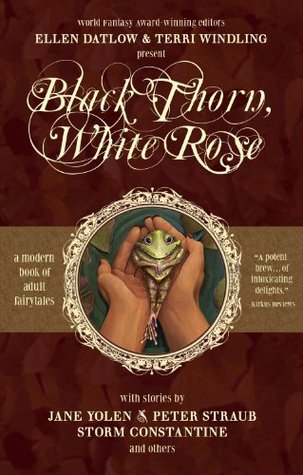 Title: Silver and Gold
Author: Ellen Steiber
In: Black Thorn, White Rose (Ellen Datlow & Terri Windling)
Rating Out of 5: 4.5 (Amazing, but not quite perfect)
My Bookshelves: Fairy tales, Poetry, Retellings
Dates read: 20th May 2020
Pace: Medium
Format: Short story
Publisher: Prime Books
Year: 1994
5th sentence, 74th page: is it any wonder I went deeper and deeper into the green trees?
A beautiful poem that investigates the reasons why we tend to follow the wolf off of the trodden path.
I absolutely loved this poem adaptation to Little Red Riding Hood. It's not generally one of my favourite fairy tales – so many plot holes, but this one kind of took those into account. It questioned how you wouldn't know that the shape in the bed was the damn wolf. It questioned why you would follow a wolf into the woods.
But, mostly what I loved about this poem was the fact that it had a much more adult take on the fairy tale. It was about following things that you just know aren't good for you. But you'll follow that anyway, it's how we learn after all.
This is a great, easy to follow poem. There are hidden layers throughout it. But there is also a great and obvious storyline at the forefront too.