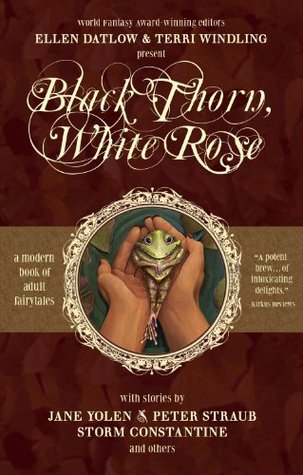 Title: Words Like Pale Stones
Author: Nancy Kress
In: Black Thorn, White Rose (Ellen Datlow & Terri Windling)
Rating Out of 5: 5 (I will read this again and again and again)
My Bookshelves: Fairy tales, Retellings
Dates read: 6th May 2019
Pace: Medium
Format: Short story
Publisher: Prime Books
Year: 1994
5th sentence, 74th page: He had made me forget for a few minutes what awaited me in the morning.
A young peasant girl has a boastful mother. But, when that boasting gets her into trouble, she finds that things are going to go very, very wrong.
Rumpelstiltskin is one of my preferred fairy tales. There is just something about it that I love, and the fact that it was has been used across many of the different retellings and TV series that I have watched makes it even more thrilling. Which meant that having a Rumpelstiltskin story to open the collection Black Thorn, White Rose made me really happy. It was a great, slightly darker start to these adult fairy tale retellings.
Most stories of Rumpelstiltskin paint the young woman as an innocent, and one that falls in love with the prince. Although she still begins this story as an innocent, the prince isn't so… pure. Actually, he's a class A a-hole. And then there's the fact that she is supposed to give up her first born. But, as in all good retellings, the reason why she gives up her first born isn't quite what is expected. Actually, I really wasn't sure why she was riding off with her child in readiness to give him away until the very last moment. And even now, I'm not sure that I like the way in which it ends…