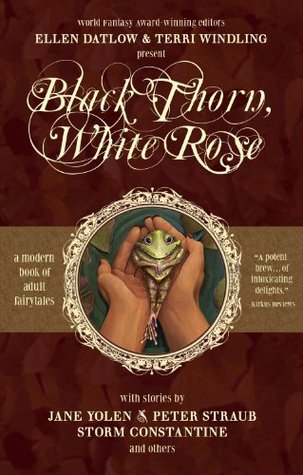 Title: Sweet Bruising Skin
Author: Storm Constantine
In: Black Thorn, White Rose (Ellen Datlow & Terri Windling)
Rating Out of 5: 4.5 (Amazing, but not quite perfect)
My Bookshelves: Dark fantasy, Fairy tales, Retellings
Dates read: 24th May 2020
Pace: Medium
Format: Short story
Publisher: Prime Books
Year: 1994
5th sentence, 74th page: She smiled continually in the presence of others, nodded often, but spoke little of herself.
This magnificent retelling of The Princess and the Pea is dark, twisting and not at all what you would expect. Filled with fantastic fairy tale tropes and a world of manipulation.
This is my second (I think) Storm Constantine short story. It has that same sense of mystery and darkness as the first story I read. This great feeling of manipulation and comeuppance throughout that is kind of impossible to forget. The strength of women – not one of the more glowing, benevolent strengths, but that dark one we can all harness shines throughout this story.
The lead voice in this story is not the kind of woman I have ever dreamed of being. Or wanted in my life. But I do love stories like this. She not only has found a way to completely harness her own son to her, but also manipulate every single circumstance that comes their way. It's horrifying and somewhat evil feeling. But it is also really, seriously great. And when the tables are turned… I gave a somewhat gleeful cackle of joy.
Although this story features two incredibly scary and manipulative women, it also has a nice little titbit at the end. One where the ties of sisterhood are realised and acknowledged. It might be a nice happy ending, but it is one in which everyone realises what they wanted in life.