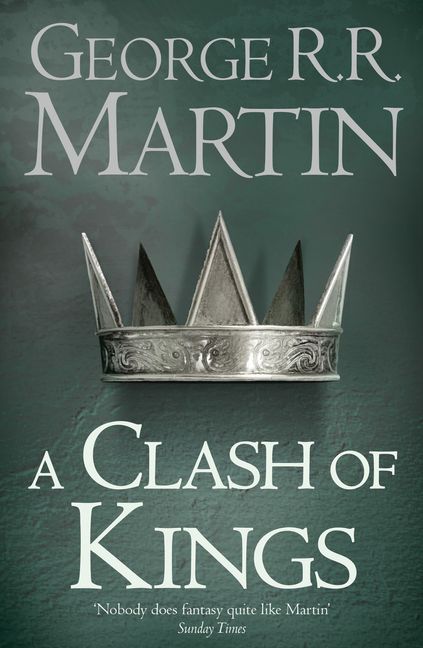 Title: A Clash of Kings
Author: George R.R. Martin
Series: A Song of Ice and Fire #2
Rating Out of 5: 4 (Really good read!)
My Bookshelves: Fantasy, Grimdark, Medieval fantasy
Dates read: 14th June – 16th July 2020
Pace: Medium
Format: Novel
Publisher: Harper Voyager
Year: 1998
5th sentence, 74th page: Fools!
Throughout Westeros, the cold winds are rising.
From the ancient citadel of Dragonstone to the forbidding lands of Winterfell, chaos reigns as pretenders to the Iron Throne of the Seven Kingdoms stake their claims through tempest, turmoil and war.
As a prophecy of doom cuts across the sky – a comet the colour of blood and flame – five factions struggle for control of a divided land. Brother plots against brother and the dead rise to walk in the night.
Against a backdrop of incest and fratricide, alchemy and murder, the price of glory is measured in blood.
And again, Martin does it. There is something amazing about his books that just completely draws me in. For such an intimidating sized book, this is ridiculously impossible to put down. I get why this is such a well-loved series. There is something completely unforgettable and intriguing about his words. Something that I know many of the other long-style fantasy books I read are kind of lacking. Not many draw me in like this.
Normally when I read a story that has some really horrible brutality in it, I either feel physically ill or end up putting the book away. There is just something about Martin's writing though that makes it less… horrifying. It's the first time ever that I haven't thrown a book in the DNF pile because of such intense brutality. Maybe part of that is because quite often the perpetrators of such horribleness are killed off in the next hundred pages or so.
There really weren't many deaths in this book. Knowing the reputation of the series, I was expecting far more. And when I say not many deaths – to my count, only one major character died in this novel. A bit like the first, A Game of Thrones. And he was a major character that I seriously didn't like, so I was completely okay with his death if I'm being honest. Turns out that Martin's writing really brings out the bloodthirsty aspect of my nature…
One of my favourite things about these books, that I'm sure I mentioned in my A Game of Thrones review is the fact that Martin can jump between multiple characters… and I DON'T get confused. Most of the time, I like jumping between two or three characters and POVs. But once it gets greater than that, I keep forgetting who and what we're talking about in that moment. That's seriously not the case in these books… I don't even know how many different POVs, characters and sub-plots I read in this. And I don't care. Because I followed them all. And loved them all…