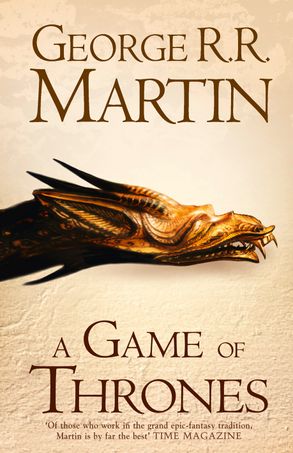 Title: A Game of Thrones
Author: George R.R. Martin
Series: A Song of Ice and Fire #1
Rating Out of 5: 5 (I will read this again and again and again)
My Bookshelves: Fantasy, Grimdark, Medieval fantasy
Dates read: 22nd October – 1st December 2019
Pace: Medium
Format: Novel
Publisher: Harper Voyager
Year: 1996
5th sentence, 74th page: Sansa had named hers Lady, and Arya named hers after some old witch queen in the songs, and little Rickon called his Shaggydog, which Bran thought was a pretty stupid name for a direwolf.
Summers span decades. Winter can last a lifetime. And the struggle for the Iron Throne has begun.
As Warden of the north, Lord Eddard Stak counts it a curse when King Robert bestows on him the office of the Hand. His honour weighs him down at court where a true man does what will, not what he must… and a dead enemy is a thing of beauty.
The old gods have no power in the south, Stark's family is split and there is treachery at court. Worse, the vengeance-mad heir of the deposed Dragon King has grown to maturity in exile in the Free Cities. He claims the Iron Throne.
It's taken me a long time to get to this story. Like, a ridiculously long time. But now that I've finally gotten to A Game of Thrones over ten years after I had a friend first suggested it to me… I can understand why it's such a well-loved book! Like, wow! I don't normally plow through a book of this length in such a short period of time. In fact normally books of this length take me a lot of stopping and starting, with whole books in between.
There are some books, that when you finish them, you sit there, in total wonder and just stare out to the horizon. This was one of those books. Although I knew roughly what was going to happen because of seeing fragments of the TV show (I still haven't watched it, will now start the first season…). I still sat there just staring out my window in wonder. There is just something about Martin's writing that sweeps you up and away in a completely abandoned way.
Knowing that this novel follows a variety of casts, I was kind of expecting it to be a little difficult to keep all of the characters separate. I normally find it to be a bit difficult to remember who is who and how they're all related when I read these kinds of novels. Yet, I didn't find it to be like that at all. The way in which each of the chapters was started and the style that it was written in made it incredibly easy to not only remember who you were reading about, but how everyone was interrelated.
I don't know if it's bias from the TV show (because I know who is likely to survive through the published novels), or just the writing. But I already have clear favourites in this series. And I can't wait to read the next book and find out how they survive the insanity of the Iron Throne.