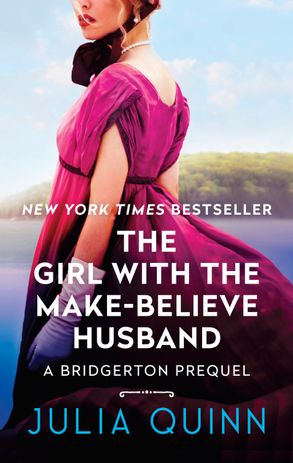 Title: The Girl with the Make-Believe Husband
Author: Julia Quinn
Series: Rokesbys #2
Rating Out of 5: 5 (I will read this again and again and again)
My Bookshelves: Historical romance, Regency romance
Dates read: 1st – 2nd January 2020
Pace: Medium
Format: Novel
Publisher: Avon
Year: 2017
5th sentence, 74th page: She took his arm, and then slowly, without a word, they made their way out to the street, where a carriage awaited to take them the short distance to the Devil's Head.
While you were sleeping…
With her brother Thomas injured on the battlefront in the Colonies, orphaned Cecilia Harcourt has two unbearable choices: move in with a maiden aunt or marry a scheming cousin. Instead, she chooses option three and travels across the Atlantic, determined to nurse her brother back to health. But after a week of searching, she finds not her brother but his best friend, the handsome officer Edward Rokesby. He's unconscious and in desperate need of her care, and Cecilia vows that she will save this soldier's life, even if staying by his side means telling one little lie…
I told everyone I was your wife
When Edward comes to, he's more than a little confused. The blow to his head knocked out six months of his memory, but surely he would recall getting married. He knows who Cecilia Harcourt is—even if he does not recall her face—and with everyone calling her his wife, he decides it must be true, even though he'd always assumed he'd marry his neighbor back in England.
If only it were true…
Cecilia risks her entire future by giving herself—completely—to the man she loves. But when the truth comes out, Edward may have a few surprises of his own for the new Mrs. Rokesby.
This is one of those books that I've been really dying to get into, but keep getting distracted before I actually start it… I can be a little too easily distracted at times. But, once I finally actually got my butt into gear, I finally managed to completely sink my teeth into this. It was amazing, brilliant and, filled with Quinn's brilliant wit and humour.
I think that one of the reasons I found it a little hard to pick up this book was because, just from the blurb you could see all of the things that could go terribly wrong. After all, the woman is pretending to be a man's husband. And even though he wakes up and doesn't quite remember things, he believes this. It's not a great recipe for a romance. Or at least, so I thought. Since, once I read this… I realised that it was actually the perfect romantic recipe.
Cecelia might be doing something kind of horrible in this story (pretending to an amnesiac that she's he's wife). But all of her motives are honourable. And, ultimately, I love that Quinn created a heroine who is soft, sweet and delicate. She has a backbone of steel and bravery that, even at the end of this story, she isn't able to own up to. But, ultimately, she is more of a typical heroine for a regency romance story. Yet, one that I didn't find tedious and irritating.
The Girl with the Make-Believe Husband was fun and beautiful. There were so many moments of awkwardness and fun throughout the story that had me smiling and giggling. It was such an easy, fairly light-hearted read. One that included just enough emotional and personal upheaval that you felt seriously personally connected to the characters. And completely unable to let them go. There's nothing like a few pulled heart strings to make you emotionally invest in such a beautiful romance…