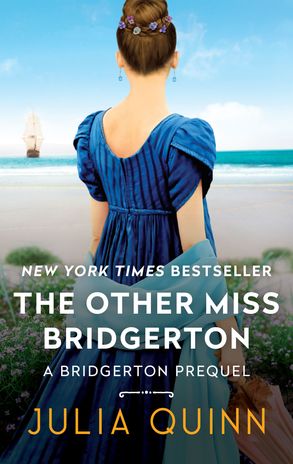 Title: The Other Miss Bridgerton
Author: Julia Quinn
Series: Rokesbys #3
Rating Out of 5: 5 (I will read this again and again and again)
My Bookshelves: Historical romance, Regency romance
Dates read: 27th January – 11th February 2021
Pace: Medium
Format: Novel
Publisher: Avon
Year: 2018
5th sentence, 74th page: Brown or Green would have been acceptable – Andrew had known both of them long enough to know that they'd not imperil her safety – but he doubted either one of them wanted anything to do with her.
She was in the wrong place…
Fiercely independent and adventurous, Poppy Bridgerton will only wed a suitor whose keen intellect and interests match her own. Sadly, none of the fools from her London season qualify. While visiting a friend on the Dorset coast, Poppy is pleasantly surprised to discover a smugglers' hideaway tucked inside a cave. But her delight turns to dismay when two pirates kidnap her and take her aboard a ship, leaving her bound and gagged on the captain's bed…
He found her at the wrong time…
Known to society as a rascal and reckless privateer, Captain Andrew James Rokesby actually transports essential goods and documents for the British government. Setting sail on a time-sensitive voyage to Portugal, he's stunned to find a woman waiting for him in his cabin. Surely, his imagination is getting the better of him. But no, she is very real—and his duty to the Crown means he's stuck with her.
Can two wrongs make the most perfect right?
When Andrew learns that she is a Bridgerton, he knows he will likely have to wed her to avert a scandal—though Poppy has no idea that he is the son of an earl and neighbor to her aristocratic cousins in Kent. On the high seas, their war of words soon gives way to an intoxicating passion. But when Andrew's secret is revealed, will his declaration of love be enough to capture her heart…?
It took me a little bit to get into this story. Not because of anything intense, but Quinn's stories are that simple and pleasant that they don't always throw me in the deep end of the story. They're just so pleasant and fun. Plus, you know that the couple is going to come together in the end. In this case, Poppy is so much like her cousin Billie that you felt like you knew her from the very beginning.
Although this was a fairly consistent and typical Quinn story, it does take a completely different spin – there's pirates. I mean, they're kind of sanctified pirates. But they're still pirates. And the whole story takes place on a ship. With a kidnapping and other sorts of drama. It may have taken me a little to get past that first chapter or so, but once I realised that the pirates were taking front and centre… I was a very, very happy girl.
From the title I knew that there would be another Bridgerton girl making an appearance in this story. The awkwardness of the whole situation just left me smiling and giggling again and again throughout this story. After all, regardless of which series you read… the Bridgertons are a force to be reckoned with. I love that Andrew is almost fearful of the response that the Bridgertons will have when they find out that he kidnapped one of them. After all, if I had a family of that size and loyalty after me… I'd feel pretty damn intimidated and concerned too.
There is no better cure for a bad day than a good Julia Quinn book. I love that even though this story / series isn't about the Bridgertons (my favourite regency romance family ever), it still features them. You can see where the next generation gets their spunk from. And the Rokesbys? Well, they're amazing too. I can't wait to read the last book in this series and fall head over heels for this family yet again.