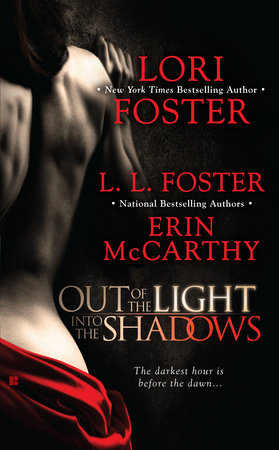 Title: Out of the Light, Into the Shadows
Author: Lori Foster & Erin McCarthy
In: Out of the Light, Into the Shadows (Lori Foster & Erin McCarthy)
Rating Out of 5: 5 (I will read this again and again and again)
My Bookshelves: Paranormal romance, Romance, Short story collections
Dates read: 20th – 31st July 2019
Pace: Medium
Format: Anthology
Publisher: Berkley
Year: 2009
5th sentence, 74th page: Things from his past erupted into his future, hateful comments, murderous gestures that he'd long buried in an effort to forget them.
The darkest hour is before the dawn… headlines a sinful new anthology where the dark and light sides of desire collide…
Embrace the darkness and experience the light in this all-new anthology filled with touching stories of happily ever after alongside smoldering tales of irresistibly dangerous, otherworldly passion. From bewitching emotions and untamed desire to dazzling romance and tantalizing sensuality, these novellas explore the complex facets of the human heart-both the light side and the dark.
This was one of those random books that you just pick up because it looks kind of cool and intriguing. I had no idea that it was part of a series that was already lurking on my shelves and I had no idea of what to expect from the pages of the book. And boy was I happily and pleasantly surprised by everything within its pages! Actually, I'm more than a little disappointed that it's all over. I just want more!
This is the first of these small novella collections that is only written by two authors. Every other one has had four separate authors creating and weaving their own storylines. And, to add to this, each of the two novellas were directly related to one another. Almost creating a longer mini story with a bit of a break between each. It was certainly a different experience, but one that I thoroughly enjoyed. It's always nice to experience something a little different.
This collection starts with two stories that are quite a bit more light-hearted and hopeful. They're sweet and tender, with just a little bit of darkness to the story that draws you in. Then, the next two stories were much darker and twistier. Those sparks of brightness dim a little bit, but just enough to make it a more dark fantasy feeling than the previous stories…