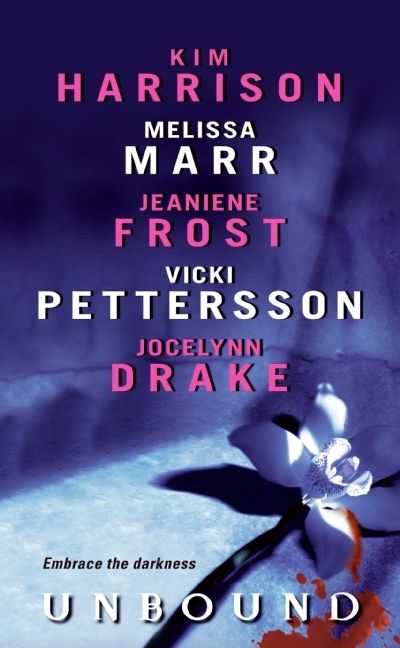 Title: Unbound
Author: Kim Harrison, Melissa Marr, Jeaniene Frost, Vicki Pettersson & Jocelynn Drake
In: Unbound (Kim Harrison, Melissa Marr, Jeaniene Frost, Vicki Pettersson & Jocelyn Drake)
Rating Out of 5: 5 (I will read this again and again and again)
My Bookshelves: Short story collections, Strong women, Urban fantasy
Dates read: 29th March – 7th May 2019
Pace: Medium
Format: Anthology
Publisher: EOS
Year: 2009
5th sentence, 74th page: Startled, Jenks turned in the air even as Daryl caught her breath only to start coughing.
Five master of dark fantasy cross the borders between our world and others.
Not all huntersa are bound by human laws…
Revisiting the paranormal realms they've made famous in their wildly popular fiction, New York Times bestselling authors Kim Harrison, Jeaniene Frost, Vicki Pettersson and Jocelynn Drake – plus New York Times bestselling YA author Melissa Marr with her first adult supernatural thriller – unleash their full arsenal of dark talents, plunging us into the shadows where the supernatural stalk the unsuspecting… and every soul is a target. 88 Get ready for the ride of your life – because the wildest magic has just been unleashed…. and evil is about to have its day.
This was a great collection of urban fantasy novellas. Not only did it introduce me to a few new worlds (that are now sitting impatiently on my To Buy List), but it also swept me away into a couple of worlds that I already love, and can't wait to sink my teeth into again and again. The great balance of known worlds and new ones made me incredibly excited to crack the pages of this collection, and I'm mostly just disappointed that it took me so long to do so…
The stories in Unbound run across a series of paranormal settings and creatures. Yet, they all have powerful women as their core. There is something that always draws me back again and again when the woman is the powerful lead, when she is independent and strong. Even if things tend to go a little haywire when they try to do the right thing…
It took me a little while to read this book. It wasn't because I didn't want to dive into the stories, but rather the opposite. I was a little concerned about the depths of my obsession with the stories. I didn't want to go out and buy a heap of other novels when I still have so many to read. But, honestly, if I wasn't concerned about spending too much money… I probably would have read all five of these novellas in a day or two. They were all completely amazing!