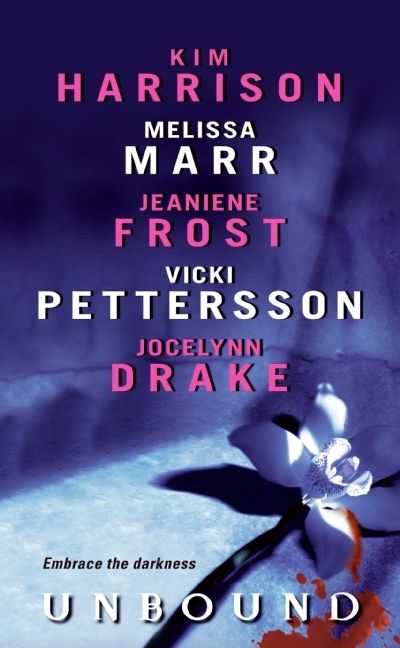 Title: Ley Line Drifter
Author: Kim Harrison
Series: The Hollows #7.5
In: Unbound (Kim Harrison, Melissa Marr, Jeaniene Frost, Vicki Pettersson & Jocelyn Drake)
Rating Out of 5: 5 (I will read this again and again and again)
My Bookshelves: Paranormal fantasy, Strong women, Urban fantasy
Dates read: 29th March – 4th April 2019
Pace: Fast
Format: Novella
Publisher: EOS
Year: 2009
5th sentence, 74th page:Startled, Jenks turned in the air even as Daryl caught her breath only to start coughing.
Pixy Jenks faces murderous dryad locked inside statue.
I never realised that I was missing stories about pixies from my bookshelves until I read this novella. Now I want to see if I can find any story that involves these little sprites… and dig myself further into this series that has them as supporting characters. After all, Jenks isn't a lead character, but he does (apparently) feature in the other Hollows stories and there was a lot of background to his character that I just haven't got yet… but I'm trying to fix that right now.
Just before reading this novella, I had the privilege of sinking my teeth into Circe, so Greek mythology and stories were in the forefront of my mind while reading this. Which means that the moment that nymphs and dryads were mentioned, I started grinning like a school girl with a crush. The fact that the nymph is a warrior and a little unhinged and ran around with a great big sword made me all the happier. I always enjoyed a good mental case running around with a sword… it adds a sense of humour and entertainment to the storyline.
Harrison is able to add a great deal of detail in a very small amount of pages. I particularly loved the cultural and social backstory of pixies in this story. The creation of an entire paranormal race with their own motives, movements and beliefs is something that can be quite difficult to highlight by itself, but adding in a few fights with a sword-wielding nymph and a bit of a conspiracy that doesn't really end in the best way… well, that is some fantastic writing.