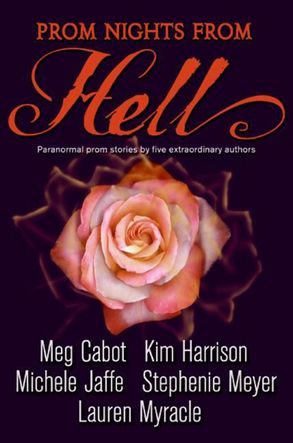 Title: Prom Nights from Hell
Author: Meg Cabot, Stephenie Meyer, Kim Harrison, Michele Jaffe & Lauren Myracle
In: Prom Nights from Hell (Meg Cabot, Stephenie Meyer, Kim Harrison, Michele Jaffe & Lauren Myracle)
Rating Out of 5: 4 (Really good read!)
My Bookshelves: Paranormal fantasy, Short story collections, Young adult
Dates read: 4th – 24th November 2020
Pace: Slow
Format: Anthology
Publisher: Harper Collins
Year: 2007
5th sentence, 74th page: We could have; my house was miles from town on an unmaintained dirt road, with no nearby neighbours to complain.
Worried that prom is gonna bite?
In this collection, bestselling authors including Stephenie Meyer (Twilight) and Meg Cabot (How to be Popular and The Princess Diaries) take bad Prom nights to a whole new level – a paranormally bad level…
Wardrobe catastrophes and two left feet are nothing compared with discovering you're dancing with the Grim Reaper – and he isn't here to tell you how hot you look…
From vampire exterminations to angels fighting demons, these five stories will be more fun than any DJ in a bad dinner jacket. No corsage or limo rental necessary – just great, sexy, scary fun!
This wasn't too bad a collection. It was a bit soured for me towards the end since I don't really like Stephenie Meyer. And she was the author who rounded out the collection. But, the other four novellas were still great, so, ultimately I really enjoyed this collection.
I've always thought that prom was incredibly stupid. I wouldn't have gone to my own formal, if it wasn't for the fact that the school told us we wouldn't graduate if we didn't go. Luckily for me, this collection proved that prom is stupid. And at least these stories featured some really entertaining and interesting proms. Ones that I might have even been excited to go to.
I liked all of the stories in this collection. I didn't necessarily jump head over heels for each of them (with Cabot and Harrison's being exceptions to this). But I did enjoy the majority of the stories. They were fun and quirky and took me on an adventure that I really wasn't expecting.
Even though this isn't my favourite anthology on my shelves. I would most certainly read it again.