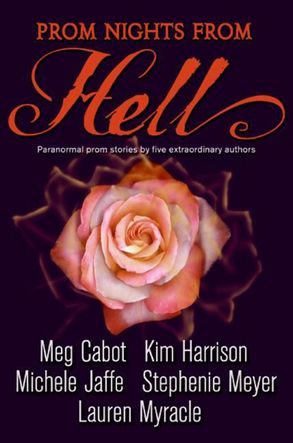 Title: The Corsage
Author: Lauren Myracle
In: Prom Nights from Hell (Meg Cabot, Stephenie Meyer, Kim Harrison, Michele Jaffe & Lauren Myracle)
Rating Out of 5: 4.5 (Amazing, but not quite perfect)
My Bookshelves: Horror, Paranormal fantasy, Young adult
Dates read: 10th November 2020
Pace: Fast
Format: Novella
Publisher:Harper Collins
Year: 2007
5th sentence, 74th page: The corsage curled, as if the petals were shrinking in on themselves.
A girl who is desperate for her forever boy to ask her to prom finds a corsage that will grant three wishes. But what follows creates a prom night from hell.
This was a seriously creepy and tragic prom story. Like goosebumps and looking over your shoulder (which in my case meant looking at a blank wall) type creepy. And yet, it was somehow kind of sweet and most definitely heartbreaking. More the kind of prom that I want to read about than the happy, sappy happily ever after crap. Which we won't go too much into what that actually says about me…
The Corsage is a prom story about first loves and first heartbreaks. With a pretty major twist – it's not the kind of heartbreak that you would expect. Or at least, it wasn't what I would have expected in this collection. I had honestly anticipated a lot more happiness and cheerful endings. I'm so happy that Myracle proved me wrong.
Like a lot of stories that feature wish fulfillment in some way, this story acted as a great reminder that what you wish for may not be what you actually want and need. And sometimes making a wish can be the worst possible thing to do. It leaves this story sitting in my pile of not-so-happily-ever-after stories. And definitely one of my favourite novellas…