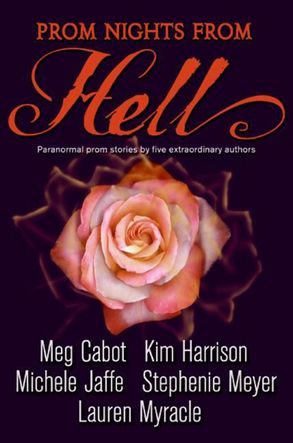 Title: The Exterminator's Daughter
Author: Meg Cabot
In: Prom Nights from Hell (Meg Cabot, Stephenie Meyer, Kim Harrison, Michele Jaffe & Lauren Myracle)
Rating Out of 5: 4.5 (Amazing, but not quite perfect)
My Bookshelves: Paranormal fantasy, Vampires, Young adult
Dates read: 4th November 2020
Pace: Medium
Format: Novella
Publisher:Harper Collins
Year: 2007
5th sentence, 74th page: "Yes," Adam says calmly.
Mary knows one thing… that her friend's prom date is evil. And it's her job to take him down. But things don't always go quite to plan… they can be better.
I most definitely want more of Adam and Mary in my bookshelves. I'm not sure that I'll get more. But it's most certainly something that I desire! They work so well as a cute teensy couple. Yet, Mary is also completely kick butt and more than a little damaged. Just how I like my heroines.
I'm still a big believer in the fact that prom is completely, totally and utterly boring. But, this one feels a little bit more fun. Mostly because it involves a cute boy and vampire hunting. Alright, I might be a strong, independent woman, and my own prom I did have a cute date… but not a cute date that would use a water blaster to kill a vampire. Or shoot ketchup at him…
This novella involved not only Dracula's son, but the exterminator's daughter. And she also happens to be the daughter of a mad scientist… which, honestly, what's not to love about that? There is so much fuel in this story for more amazing tales, and it's a seriously fun little journey. Particularly when the ending is so… full of future possibilities.
I've read a few books in the Princess Diaries series. So I'm used to Cabot's fun, cute and easy to read teenage stories. This fit all of the usual bills and was definitely a story that I would read again and again. A bit like Cabot's other stories…