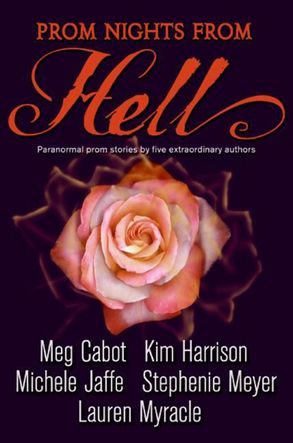 Title: Hell on Earth
Author: Stephenie Meyer
In: Prom Nights from Hell (Meg Cabot, Stephenie Meyer, Kim Harrison, Michele Jaffe & Lauren Myracle)
Rating Out of 5: 2.5 (Readable, but not worth reading again)
My Bookshelves: Paranormal fantasy, Young adult
Dates read: 24th November 2020
Pace: Slow
Format: Novella
Publisher:Harper Collins
Year: 2007
5th sentence, 74th page: He could see Melissa, her head on that stupid jock's shoulder, her eyes closed.
Gabe just wants prom night to be good, fun and filled with love. But, there's a hitch in his plans and he might just be able to save her.
I was so hoping that this novella would begin to redeem Meyer to me. But it really didn't. partially this is probably because I went into it with a negative expectation. But also the fact that it is, in general just not that well written. Her writing still feels clunky to me. Clunky, not well edited and just not enough to be interesting.
The idea of this novella was kind of brilliant. And I think that most other authors, I would have happily read the novella and actually enjoyed it. But, that is just not destined to be the case for this story.
I won't write much about this as I don't have much to say that is positive.