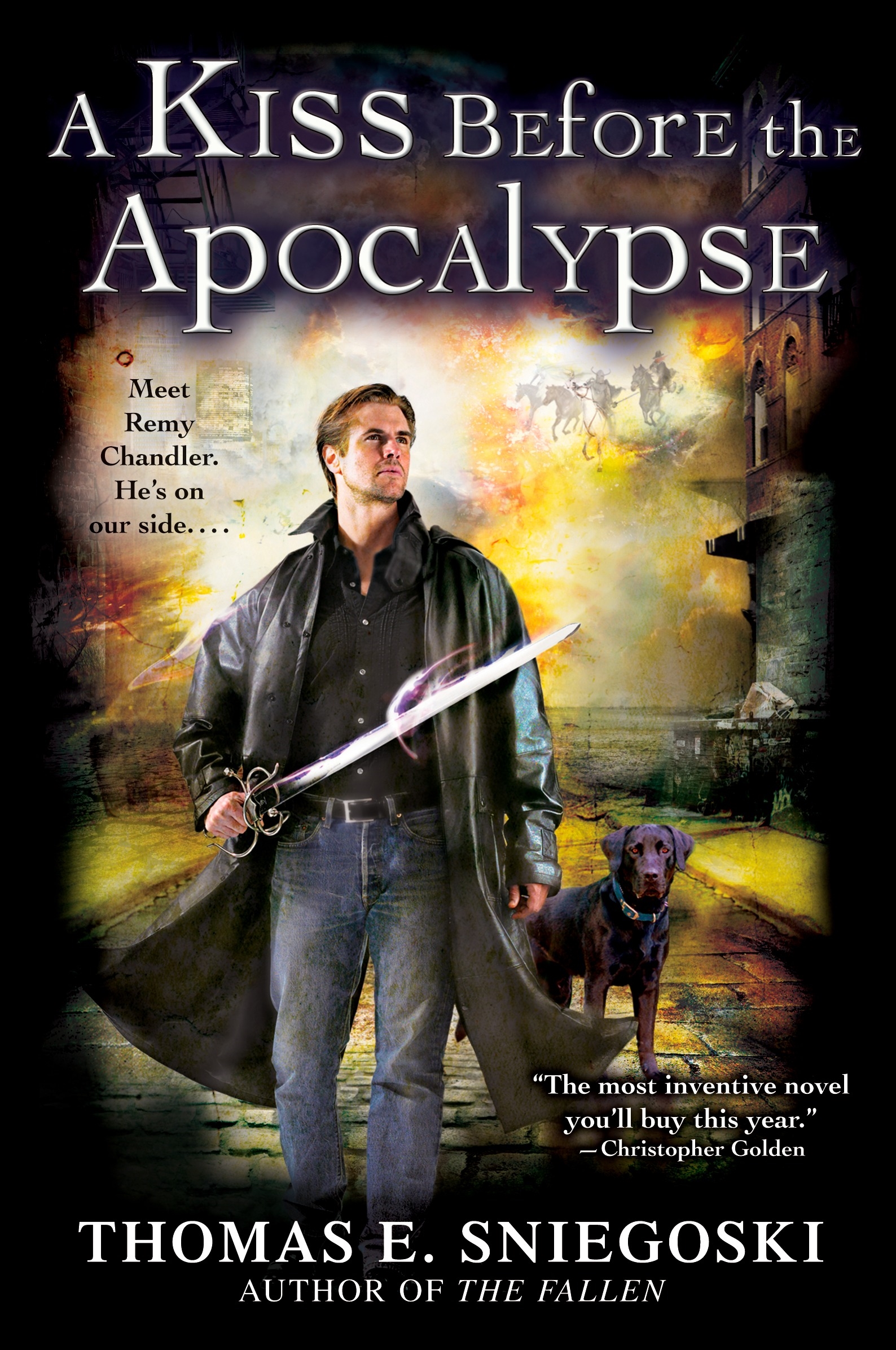 Title: A Kiss Before the Apocalypse
Author: Thomas E. Sniegoski
Series: Remy Chandler #1
Rating Out of 5: 4 (Really good read!)
My Bookshelves: Angels, Paranormal fantasy, Urban fantasy
Dates read: 8th – 16th December 2020
Pace: Slow
Format: Novel
Publisher: Roc
Year: 2008
5th sentence, 74th page: There was a leash law in Boston, but as long as it wasn't crowded and the dog didn't bother anybody, Remy didn't see the harm in letting him run a bit.
Boston PI Remy Chandler has a life any man would envy, with friendship, a job he's good at – and love. But Remy is no ordinary man. He's an angel who chose to renounce heaven and live on Earth. So he's able to will himself invisible, hear thoughts, and speak and understand any language – of man or beast. Talents that will become invaluable to him when his angelic past returns to haunt him…
The Angel of Death has gone missing, and Remy's former colleagues have come to him for help. But what at first seems to be about tracing a missing person turns out to involve much more – a conspiracy that has as its goal the destruction of the human race.
And only Remy Chandler can stop it…
Whilst I enjoyed this novel, I didn't fall madly in love with it. Mostly I think that it was the style of writing. I actually thought that the storyline was brilliant. Even if it was quite religious (I have a tendency to freak a little bit over religious things). But, overall, I found this really enjoyable, with a few aspects I would love to improve upon.
Most of the fantasy stories I read which feature an immortal being are ones that focus on the benefits. I loved the fact that Remy's one true love in this collection is already aged. He's had his benefits and all of the positives that come with falling in love. But, now, in this story, there is more of a focus on the negatives that come with falling in love when you're immortal. I also loved the way in which Madeline is completely accepting of not only Remy, but her own demise. In fact, she actually, ultimately yearns for it.
Recently, I read Hounded by Kevin Hearne. I love that this year I've managed to read two books which feature a dog as a sidekick who is able to communicate with their master. And they are both done beautifully. Marlowe, in fact, reminds me a lot of one of my dogs. He's a big goof ball, kind of useless and totally loveable. Plus, there is a simplicity and honesty to his interactions with Remy that is just so damn pure. I mean, there is a reason why dogs are seen as man's best friend after all.
Overall, I did really enjoy this book and will most definitely buy more books in this series. But it will probably be one of those series that I pick up and put down a little more frequently. Thoroughly enjoyable, but not entirely powerful enough to draw me in and pull me out of daily life like some of the other books on my shelves.