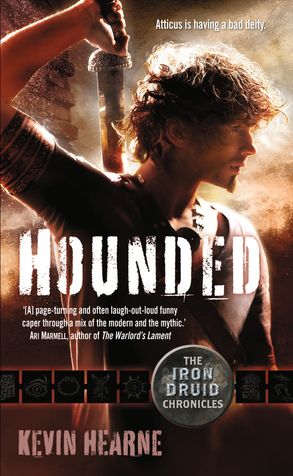 Title: Hounded
Author: Kevin Hearne
Series: The Iron Druid Chronicles #1
Rating Out of 5: 4 (Really good read!)
My Bookshelves: Celtic, Magic, Mythology, Urban fantasy
Dates read: 18th August – 15th September 2020
Pace: Medium
Format: Novel
Publisher: Harper Voyager
Year: 2011
5th sentence, 74th page: <May I have some tea, then?>
Atticus O'Sullivan, last of the Druids, lives peacefully in Arizona running an occult bookshop and shapeshifting in his spare time to hunt with his Irish wolfhound. His neighbours and customers think this handsome, tattooed Irishman is about twenty-one years old when, actually, it's twenty-one centuries. Atticus draws his power from the earth, possesses a sharp wit and wields an even sharper magical sword known as Fragarach, the Answerer.
Unfortunately, a very angry Celtic god wants the sword, and he's been after Atticus for centuries. Now the determined deity has tracked him down and Atticus will need all his powers – plus a seductive goddess of death, his vampire and werewolf team of lawyers, a sexy bartender possessed by a Hindu witch, and some good, old-fashioned Irish luck – to kick some Celtic arse and deliver himself from evil.
This story was kind of fun and brilliant. It was filled with action, humour, and my favourite think of all – mythology. In particular, Celtic mythology and the practices of Druids. Don't get me wrong, the wit and the wonder of the story are thing that I completely love. But it is just all that much better when it's partnered with some great magic and mayhem. This is one of those books that definitely ticked all of my happy boxes.
Although I've always felt a little drawn to Celtic folklore and Druidry, I've not really had much exposure to it. So it was nice to not only experience a new folklore / mythos in a book, but to learn so many, many things along the way. I always love when a new fantasy aspect works its way into my reading list. Sadly, I don't have any of the other books on my shelves… so now I have to wait to throw myself headfirst into this series again, much to my chagrin.
I've read a lot of books with great sidekicks. But, I must admit… Oberon has GOT to be my absolute favourite. He is funny, cute and has the exact voice that I imagine my big dog would have (the little one would be WAY more sassy). I love that the sidekick is a dog that can communicate, but rather than giving him a lot of human traits, he's doglike in all of his desires and drives. I actually bought this book because of the short story The Naughtiest Cherub, which kind of features Oberon in some ways. After all, any series which features a massive dog as a cheerful and happy sidekick and companion… that's going to make me incredibly happy.
To further enhance my love of this story – Hearne manages to take a lot of the traditional paranormal creatures I tend to come across in many of my fantasy books. But, then he's added some more Celtic and druidic characters. Including some of the Tuatha De Danan. I love that there is such a heavy Irish tilt to this story, one that I just can't stop thinking about and quite honestly, just can't quite get enough of.