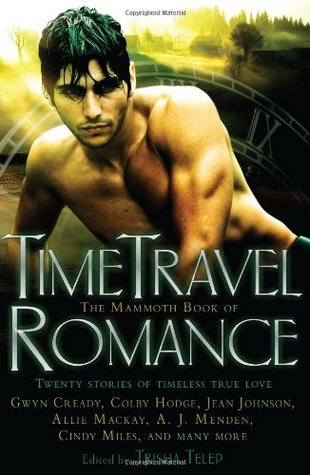 Title: The Troll Bridge
Author: Patti O'Shea
In: The Mammoth Book of Time Travel Romance (Trisha Telep)
Rating Out of 5: 3 (On the fence about this one)
My Bookshelves: Romance, Time travel
Dates read: 31st October 2019
Pace: Slow
Format: Short story
Publisher: Robinson
Year: 2009
5th sentence, 74th page: That wasn't what made her uneasy.
She's accidentally travelled forwards in time. But, when the decision comes down to it, will she go home to friends and family, or live her new life here?
This story was a little bit bizarre. She only travels about 45 years into the future. But the future is drastically different from the current. Since this was written in 2010, and 9 years have already passed… I don't think that many of these predicted moments are going to come to pass. I was also a little uninterested in most of this story. I'm not sure why – probably because I spent most of the time going 'huh'?
The other reason I may not have enjoyed this short story so much was the fact that I just wasn't in the mood for this kind of flirty mood. Or really anything to do with most of this. It was just weird flirting, and not actually relatable for me. But maybe I'll give it another shot in the future…