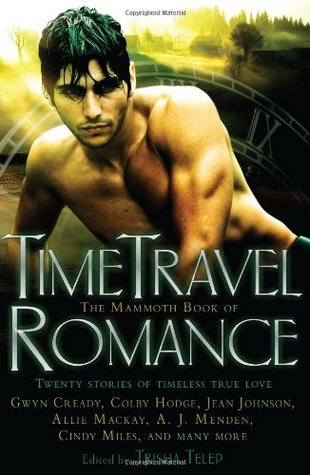 Title: Saint James' Way
Author: Jean Johnson
In: The Mammoth Book of Time Travel Romance (Trisha Telep)
Rating Out of 5: 4.5 (Amazing, but not quite perfect)
My Bookshelves: Anthropology, Historical romance, Time travel
Dates read: 28th October 2019
Pace: Medium
Format: Short story
Publisher: Robinson
Year: 2009
5th sentence, 74th page: "If my shoes weren't falling apart, I would hasten in a more seemly manner," Phinneas countered out loud.
A time travelling anthropologist is fascinated by one of the men in her study cohort. But she can't change the past… or can she? Has she finally found true love?
Love, love, love the idea of a time travelling anthropologist! After all, anthropology is all about participating and observing. In studies today, we mostly have to tell our participants that we are actually observing them… but if we travelled back in time? Before anthropologists existed? Well, I can understand not telling people that you're observing them, after all, anthropologists aren't something that exists yet.
I thought that the attachment between Anne and James was incredibly cute and sweet. But it wasn't overwhelmingly lustful. They simply found each other intriguing, and intellectually fulfilling. For me, that's something that I find far more powerful than physical attraction – the ability to find a partner who will intellectually stimulate you as well as physically. Anne and James are perfect for this. They're so intellectually in tune, that the physicality comes second.
Really, who doesn't want a knight in somewhat shiny armour in their lives? James manages to fulfil this fantasy far more than I had ever expected. I've never truly wanted a knight, until reading this short story. Now… I can imagine my partner dressed as a knight riding up on a white horse… somehow don't think he'd go for it though…