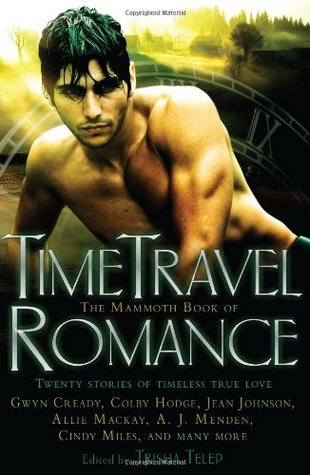 Title: Pilot's Forge
Author: Patrice Sarath
In: The Mammoth Book of Time Travel Romance (Trisha Telep)
Rating Out of 5: 3.5 (Liked this)
My Bookshelves: Romance, Science fiction, Time travel
Dates read: 16th October 2019
Pace: Slow
Format: Short story
Publisher: Robinson
Year: 2009
5th sentence, 74th page: Edith parked her battered old work truck, with 'Crane Farrier and Blacksmithing' stencilled on the side, at the end of the parking lot, got out and stretched.
Merritt Crane is being nosy and investigating an abandoned ship. But, suddenly he's thrown into his past, our time. Where he not only saves a beautiful woman, but also starts to fall for her. When he saves her by going back to the future, is there any hope for them?
This is a lot less romantic than many of the other stories in The Mammoth Book of Time Travel Romance collection. In fact, there's a hint of incest. Just a hint. And not enough to be icky (and believe me, I have read some icky tales lately…). But, mostly, the romance within it isn't really gushy… they hook up and there is a little lust, but it's only just glossed over. Which makes it different and refreshing compared to many of the other tales throughout the collection.
The dystopian, space future represented in this short story was intriguing. The loss of Earth; the existence of the rich and poor clans; and the existence of a man on the wrong side of the law – these all were kind of reminiscent of our life now. But highlights that we can't keep treating our world like garbage. After all, our ancestors too might find a life and a reality in which they no longer have Earth.
The name of this story is kind of cool – originally I thought that it was about the spaceship and process of being involved with this. Yet, it's actually about a small, tiny town on Earth in our modern day. The match up of the names and the hints about what this means are amazing. I feel like in the name alone, I would pick up more nuances as I reread this story.