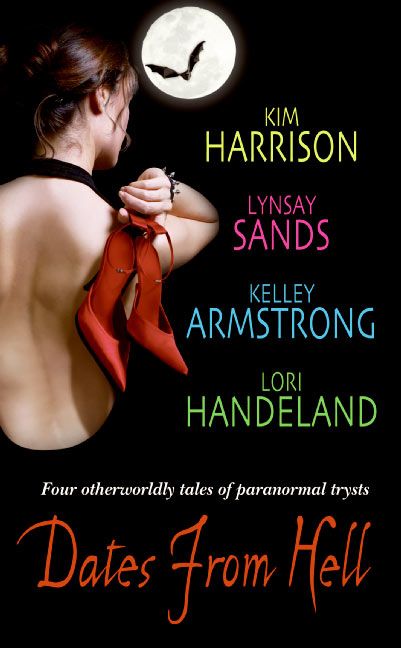 Title: Dates From Hell
Author: Kim Harrison, Lynsay Sands, Kelley Armstrong & Lori Handeland
In: Dates From Hell (Kim Harrison, Lynsay Sands, Kelley Armstrong & Lori Handeland)
Rating Out of 5: 5 (I will read this again and again and again)
My Bookshelves: Paranormal romance, Short story collections, Urban fantasy
Dates read: 22nd June – 11th July 2019
Pace: Medium
Format: Novella
Publisher: Avon Fiction
Year: 2006
5th sentence, 74th page: Jerking in sudden decision, she dropped the pen and pulled out the Yellow Pages, looking for the biggest insurance ad that wasn't connected to one of Cincinnati's older vamp families.
She thought her date was out of this world. Acutally, he was not of this world…
We've all been on bad dates, dreadful experiences that turned out to be uniquely memorable in the very worst way. But at least our partners for these detestable evenings were more or less… human!
Now Kim Harrison, Lynsay Sands, Kelley Armstrong, and Lori Handeland – four of the very best writers currently exploring the dangerous seduction of the supernatural – offer up dating disasters (and unexpected delights) of a completely different sort: dark, wicked, paranormally sensual assignations with werewolves, demon lovers, and the romantically challenged undead. Sexy, witty, chilling, and altogether remarkable, here is proof positive that some love matches are made someplace other than heaven.
Normally I love collections like this because you can read one novella, finish it, put it down and walk away. I did manage to do this… but it was quite a bit more difficult than I had anticipated. I had already read something by every one of these authors, and so I knew that what was just around the corner was going to be fantastic. And it was this knowledge that made it nigh on impossible to stop thinking about this storyline.
There is something about stories of horrible dates that I kind of love. Not because I've ever been on one (I met my other half when I was seventeen and have been stupid in love since). But I can imagine the horrors of what pretty much everyone must go through. It's a way to live vicariously through something. Adding in the extra aspect of fantasy and the supernatural just made it all the more fun. And a little bit more alien than even a first date is to me.
Anybody who loves paranormal fantasy or romance is going to love this collection of novellas. If you also enjoy heroines who are strong and independent and more than likely to get themselves into trouble… then this is even more likely to make you deliriously happy. Like it did me… now I need another collection like this to while the nights away…