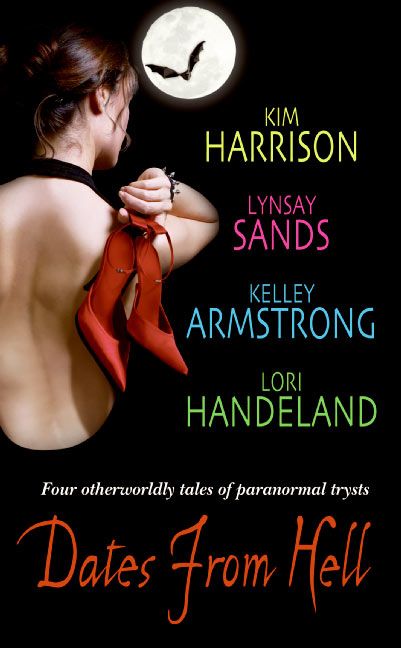 Title: Dead Man Dating
Author: Lori Handeland
In: Dates From Hell (Kim Harrison, Lynsay Sands, Kelley Armstrong & Lori Handeland)
Rating Out of 5: 5 (I will read this again and again and again)
My Bookshelves: Demons, Paranormal romance, Urban fantasy
Dates read: 11th July 2019
Pace: Fast
Format: Novella
Publisher: Avon Fiction
Year: 2006
5th sentence, 74th page: His face was fierce, his eyes dark, intense as they stared into mine.
On their first date, Kit goes too far with Eric, shot by bystander Chávez, then wakes to no blood, no body.
You know a story's going to be good when it starts out stating that she was on a date with a dead man. Literally. Completely, totally and utterly, stone cold. Dead. The fact that a mysterious, Latino man dives in to save the day and the woman is stubborn enough not to let him escape. Well, it was going to be a fantastic story from the very beginning.
Handeland seems to have a way that is both witty and serious with her writing. As Kit struggles to escape the seductive demon chasing her and sort out her feelings for the demon hunter in her life, she also manages to be a little bit pithy about the world around her. The tragedy of her past, the terrifying circumstances of her present, nothing dulls Kit's ability to find humour in everything and a way to move forward. Which of course, made this story completely impossible to put down. I even walked into the edge of the doorway, I was so desperate to finish this and make my dinner at the same time.
The construction of the world in this novella is fantastic. I love the layering of real world issues and realities (calling a twenty-something year old virgin rare for starters) with a demon hunting reality. Many of us often claim that the world is kind of going to shit, and Handeland seamlessly takes this idea one step further with the discussions of a coming apocalypse. Now I just have to find some more works by her to fill up my happy little, addicted brain.