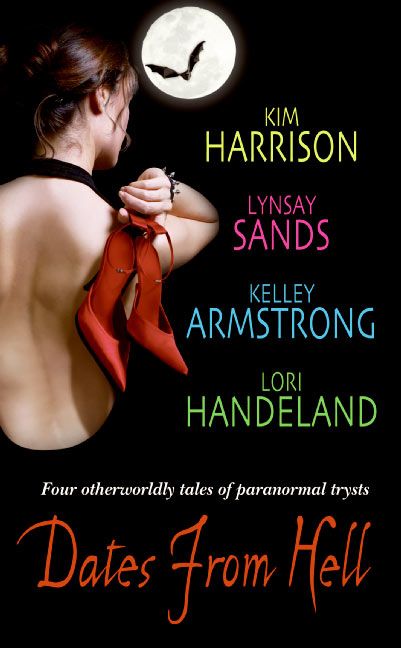 Title: Undead in the Garden of Good and Evil
Author: Kim Harrison
Series: The Hollows #2.5
In: Dates From Hell (Kim Harrison, Lynsay Sands, Kelley Armstrong & Lori Handeland)
Rating Out of 5: 4.5 (Amazing, but not quite perfect)
My Bookshelves: Paranormal fantasy, Strong women, Urban fantasy
Dates read: 22nd – 27th June 2019
Pace: Fast
Format: Novella
Publisher: Avon Fiction
Year: 2006
5th sentence, 74th page: Jerking in sudden decision, she dropped the pen and pulled out the Yellow Pages, looking for the biggest insurance ad that wasn't connected to one of Cincinnati's older vamp families.
Ivy and vampire Art are partners on homicide case for Inderland Security.
Ivy's framing of Art is mentioned a number of times in the Hollows graphic novels, and Dead Witch Walking. Enough so that I was intensely interested in the why, the how and the every single moment of why she would do such a thing. Especially considering it is so at odds with the character that I'm steadily falling in love with as I read my first full length novel in the series. This novella explains her motives absolutely perfectly.
Normally I will read a novella in less than an hour. One sitting that will leave me with a smile on my face. Because this tale dealt with the darker side of Ivy and her bloodlust, I didn't just read it cover to cover. Rather, I found that I'd read two chapters, then have to put it down. Harrison's ability to bring her characters to shocking reality made my heart ache every moment that I spent in this world. In the best way possible.
One of the aspects of vampirism that seems to continuously come up in the stories that I read is their love of politics. Undead in the Garden of Good and Evil shows the depths and complexity of this. In a quite brutal manner. But, since I'm not the kind of person who generally feels comfortable with politics, it also drew me in completely – no consequences.