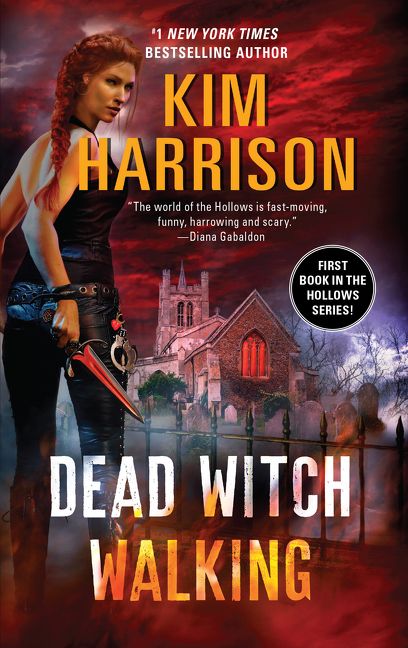 Title: Dead Witch Walking
Author: Kim Harrison
Series: The Hollows #1
Rating Out of 5: 5 (I will read this again and again and again)
My Bookshelves: Paranormal fantasy, Strong women, Urban fantasy
Dates read: 15th June – 2nd July 2019
Pace: Fast
Format: Novel
Publisher: Harper Voyager Fiction
Year: 2004
5th sentence, 74th page: "Piscary's."
All the creatures of the night gather in "the Hollows" of Cincinnati, to hide, to prowl, to party… and to feed.
Vampires rule the darkness in a predator-eat-predator world rife with dangers beyond imagining – and it's Rachel Morgan's job to keep that world civlized.
A bounty hunter and witch with serious sex appeal and an attitude, she'll bring 'em back alive, dead… or undead.
I've been hanging to start this book for quite a while. There is just something which draws you in about the idea of The Hollows and Rachel Morgan. Plus, I kind of needed a storyline with a little bit of sass and attitude. I've been reading too many cutsey stories lately, and they were starting to grate on me a little. So Rachel's gumption, sass and independence was exactly what I wanted to read, though tearing myself away from her adventures at night before bed was incredibly difficult.
Kalamack is one of the most hated villains I've ever read. Like, I've actually never wanted to reach through the pages of a book more and strangle a guy. And that was when I read The Turn. So I was both excited and disappointed to find him appearing again in this story, which takes place over forty years after the original story. I was really, really hoping that Rachel was going to take him out… although the fact that he wasn't really the villain in this story kind of made it a little exciting as well. He was just another obstacle in the way, and his power-hungry ways are sure to continue messing with the people of The Hollows as the series unfolds.
I've read a few of the novellas in this series, and the prequel novel. And even though I really enjoyed them, they weren't anything compared to the actual series featuring Rachel. It was everything that I look for in an urban fantasy and I can see myself sinking into many of these stories whenever I need a good paranormal fix. This entire novel is filled with highs and lows, every time you think you can relax, a new obstacle is thrown in the way. Which of course makes it almost impossible to put down and one of those stories that I will enjoy reading again and again.