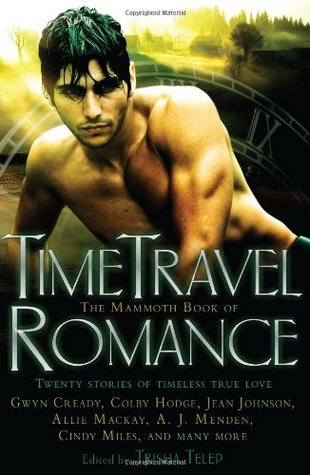 Title: The Wild Card
Author: Sandra Newgent
In: The Mammoth Book of Time Travel Romance (Trisha Telep)
Rating Out of 5: 4.5 (Amazing, but not quite perfect)
My Bookshelves: Contemporary romance, Time travel
Dates read: 5th May 2019
Pace: Medium
Format: Short story
Publisher: Robinson
Year: 2009
5th sentence, 74th page: The fellow across from him folded.
Cami is just coasting through life, unsure of what her next step is. But when a chance encounter with a man promises to bring all of her fantasies alive, she is thrown back into a world that she knows nothing about, and a man she wants to know everything about.
At the beginning I really loved this story. And I even loved it in the middle. The end though was just a little too open for me. It meant that I could imagine a happily ever after, but I still wanted just a little bit more to cement that idea for me. Something that made me understand a few of the plot holes and made me feel that sense of happy anticipation that I felt at the very beginning of this tale.
Not many stories that I read start in a casino. Even less of them begin in a casino and are a time travelling romance. Which makes this a thoroughly enjoyable, intriguing way to start a story. My first thoughts considered whether or not she would be going backwards or forwards in time. I actually assumed forwards when she met her mystery man. But that really wasn't the case.
The part of this story that I loved the most was the fact that although Cami absolutely adored the man she found in the past, she didn't ever want to stay. A man wasn't enough for her to give up her life and happiness in modern times. This seems to be frequently missing from a lot of time travel romances – they're all about women who don't have much in their current lives, so they choose to find their homes and happiness in another time, leaving everyone and everything behind.