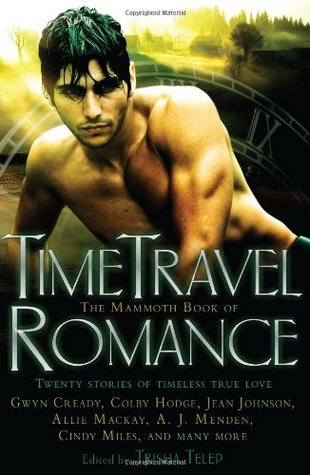 Title: Sexual Healing
Author: Margo Maguire
In: The Mammoth Book of Time Travel Romance (Trisha Telep)
Rating Out of 5: 5 (I will read this again and again and again)
My Bookshelves: Contemporary romance, Time travel
Dates read: 28th April 2019
Pace: Medium
Format: Short story
Publisher: Robinson
Year: 2009
5th sentence, 74th page: She nodded against him.
D499 is sent back in time to stop the potential future extinction of the human race. But when he finds the boy responsible, he isn't quite sure what he's supposed to do. Or how he's supposed to feel about the alluring woman who is his mother…
Most of the time travel romances and books that I read tend to be about travelling back in time. Romanticising a past that we can't truly fathom and removing aspects of history that just don't quite fit with our ideal. This is the first of the time travel romances in which the time jump involves the future. Like a thousand years into the future.
D499 travels back to our time, kind of like in the terminator. To right a wrong and stop a young boy from changing the world. I was actually expecting him to go a little terminator on the family in his quest to save the human race. Luckily, he didn't. And this story was a happy, easy read that left me feeling content about the potentials of the future.
It really didn't hurt my enjoyment of this story that it dealt with the sciences. And, more particularly a woman who was attempting to get her PhD in neurobiology, a son who will follow in her footsteps and a hunk of a man who is a physicist.