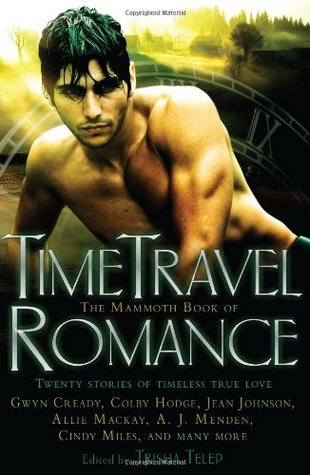 Title: Lost and Found
Author: Maureen McGowan
In: The Mammoth Book of Time Travel Romance (Trisha Telep)
Rating Out of 5: 5 (I will read this again and again and again)
My Bookshelves: Contemporary romance, Romance, Time travel
Dates read: 26th April 2019
Pace: Medium
Format: Short story
Publisher: Robinson
Year: 2009
5th sentence, 74th page: Well, here it is.
Jake has woken up on the same day in a different year since he turned 32. But, when he suddenly wakes up and finds a familiar face from the past, he begins to hope that his curse is over.
I kind of liked this version of time travel. Rather than being two people from entirely different periods in history, it's two that are born just far enough apart to make their relationship impossible. And it features the damage that time travel could do to a person. The ways in which being thrust from your time and place, everyone you know and love can destroy some of the hope and happiness in a person.
Age gaps in relationships generally bother me. Even when it's vampires. (What twenty-year-old wants to date an 800-year-old? It just seems wrong.) Yet this age gap wasn't too bad, alright they did meet for the first time when she was fourteen and he was thirty-two. But the fact that his time jumping doesn't slow down until they are actually at the same age and it's less… icky was kind of nice.
Most of the time travel stories I've read focus on jumping through a large gap in time. Something a little more permanent. Yet, this is the repetition of a day again and again. Just in a different year each and every time. There is no really forwards and backwards movement, but a stagnation of time for the poor sap.