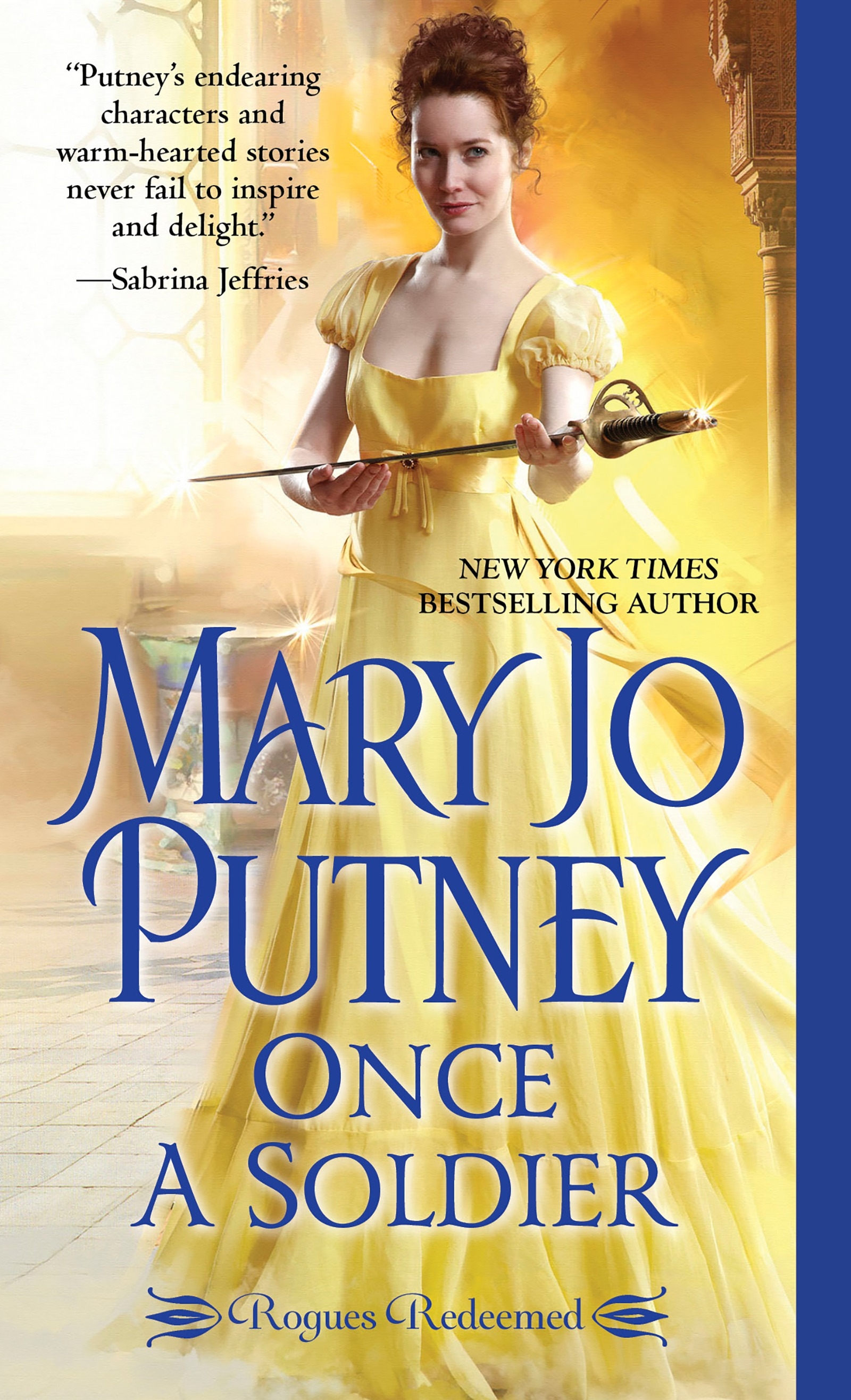 Title: Once a Soldier
Author: Mary Jo Putney
Series: Rogues Redeemed #1
Rating Out of 5: 5 (I will read this again and again and again)
My Bookshelves: Historical romance, Regency romance
Dates read: 30th – 31st July 2020
Pace: Slow, Medium, Fast
Format: Novel
Publisher: Zebra Books
Year: 2016
5th sentence, 74th page: She was human and female.
Rogues Redeemed
As heir to a title and great wealth, Will Masterson should have stayed home and tended his responsibilities. Instead he went to war. Now, after perilous years fighting the French, he intends his current mission to be his last. But all his plans are forgotten when he arrives in the small mountain stronghold of San Gabriel and meets her.
Knowing herself to be too tall, strong, and unconventional to appeal to a man, Athena Markham has always gloried in her independence. But for the first time in her life, she finds a man who might be her match.
Two of a kind, too brave for their own good, Athena and Will vow to do whatever it takes to vanquish San Gabriel's enemies. For neither will back down from death, and only together can they find happiness and a love deeper than any they'd dared imagine…
This was a great historical romance. It's a genre that I'm getting more and more enthralled in… and this was a great example of exactly what this genre can offer. It was cute, filled with historical moments and just a great, easy, and fun read. I love that the language was approachable, and although some of the historical moments aren't ones that I specifically know about… it was still filled with enough information that I didn't feel like I was missing out on anything.
Although I've been reading a lot of historical fiction books that are based around the early 1800s and the war with Napoleon – this is the first one that actually features the war. There are battles, warfare and a fair amount of blood amongst the romance that takes bloom on these pages. You know that it's going to be a little more intense and gruesome when the opening scene is five men stuck in a basement, about to be shot…
I found Athena's past and familial situation to be a little heartbreaking to be completely honest. I've read a lot of books in which the lead character has a bit of a tragic past. But for some reason, Athena's was just so much worse. Which, of course, made her happily ever after moment at the end all that much better. And, the fact that part of that was her moment of reconnecting with family… my heart melted a little and left me with some seriously happy feelings.
I loved that in this story – Will is aware that Athena has some hang ups (even if he doesn't understand some of them), and willing to be a little more sly in his courtship. I also loved the way that Athena and he found different categories for different styles of relationships. It was very well done, very cute and seriously fun. It added a touch of lightness to a story that would otherwise be really intense and deep. Now I can't wait to find out what the other rogues have been up to and how they will all find their own forms of redemption.