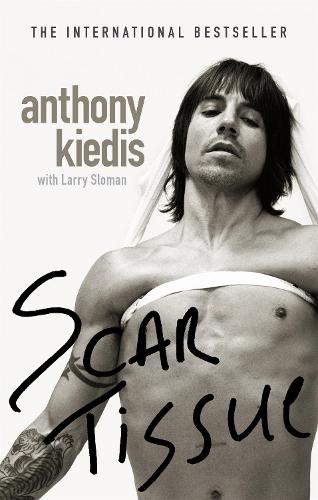 Title: Scar Tissue
Author: Anthony Kiedis
Rating Out of 5: 4 (Really good read!)
My Bookshelves: Biographies, Memoirs, Music
Dates read: 18th – 25th June 2019
Pace: Slow
Format: Novel
Publisher: Sphere
Year: 2004
5th sentence, 74th page: So as far as they're concerned, you and I are best friends, and we work on school stuff together, and that's it.
In 1983 four self-described 'knuckleheads' burst out of the neo-punk rock scene in LA with their own unique brand of cosmic hard-core mayhem funk. Over twenty years later, the Red Hot Chili Peppers, against all the odds, have become one of the most successful bands in the world. Though the band has gone through many incarnations, Anthony Kiedis, the group's lyricist and dynamic lead singer, has been there for the whole rollercoaster ride.
Scar Tissue is Kiedis's searingly honest memoir – a story of dedication and debauchery, of intrigue and integrity, of recklessness and redemption. It is a story that could only have come out of Hollywood.
I read this for the first time about ten years ago. And I was completely blown away. Rereading this as an adult my mind was still completely blown. But I also felt really quite uncomfortable by the stories that Kiedis was imparting. I just can't fathom a childhood and life such as his. Which of course made it all the more enthralling to read…
Red Hot Chili Peppers is one of those bands that I've always loved and will continually return to (no matter how my tastes change). Which meant that reading about the story behind their creation and beginning was absolutely amazing. The fascinating journey that they took and the struggles that were faced are completely beyond anything that I could ever imagine. The amazing insight provided into a world that I had previously known nothing about also made this book nigh on impossible to put down.
I read a lot of good fantasy and fiction books. After all, it's easy to be swept away in a world that is just not your own. And, although I love biographies, I don't tend to pick them up as readily. I find that the author has to be very good to sweep me away into their world. After all, I already live in this world, and it can make the stories a little boring if not written well. Luckily, and maybe not surprisingly, Anthony Kiedis is an amazing writer. He foreshadows and builds suspense. Transports you in a way that makes you feel like you're actually there. And, probably most importantly, makes all of the insanity and bad things that have happened to him, seem like no big deal. It doesn't have a depressive feeling to it. But one of hope and wonder.