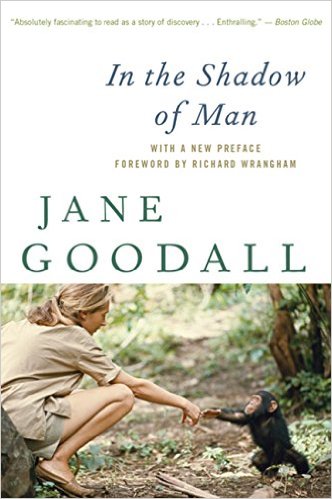 Title: In the Shadow of Man
Author: Jane Goodall
Rating Out of 5: 5 (I will read this again and again and again)
My Bookshelves: Biographies, Conservation, Non-fiction
Dates read: 13th May – 6th June 2019
Pace: Medium
Format: Novel
Publisher: Mariner
Year: 1971
5th sentence, 74th page: Christmas that year at the Gombe Stream was a day to remember.
World-renowned primatologist, conservationist, and humanitarian Dr. Jane Goodall's account of her life among the wild chimpanzees of Gombe is one of the most enthralling stories of animal behavior ever written. Her adventure began when the famous anthropologist Dr. Louis Leakey suggested that a long-term study of chimpanzees in the wild might shed light on the behavior of our closest living relatives in the animal kingdom. Accompanied by only her mother and her African assistants, she set up camp in teh remote Gombe Stream Chimpanzee Reserve in Tanzania.
For months the project seemed hopeless; out in the forest from dawn until dark, she had but fleeting glimpses of frightened animals. But gradually she won their trust and was able to record previously unknown behavior, such as the use – and even the amking – of tools, until then believed to be a skill exclusive to humans. As she came to know the chimps as individuals, she began to understand their complicated social hierarchy and observed many extraordinary behaviors, forever changing our understanding of the profound connection between humans and chimpanzees.
I've always wanted to read a book by Jane Goodall but I just never seem to quite get around to it…. until now. And now I'm mostly just annoyed that it took me this long and I have to wait until next pay day to buy any of her other books. Not only was it impossible not to fall in love with Flo and Fifi and all of the other characters in Jane's chimpanzee family, but it was so inspiring. Conservation studies and the sciences may have changed a lot since the founding of Gombe Research Station, but our passions and slightly unorthodox approaches to what fascinates us kind of remain the same… it gives you hope.
One of my favourite aspects to this novel is that each chapter deals with a different aspect of chimp (and human) behaviour and interaction. In each mini story, a span of years of observations is covered. It ties everything in beautifully so that you can really gain an insight and understanding into this unique group of animals and individuals. That is of course, aside from the first few chapters which provide a storyline for the start of Jane's career and how she found herself in such an amazing opportunity.
Normally I like to read biographies and non-fiction books before bed. They're an easy read that is interesting, but also simple to put down. Not so much with this book. There was something about the extra relatability of chimpanzees and Jane's journey with them that made it stupidly difficult to put this novel down. Like ridiculously difficult… I stayed up WAY too late reading this. And had quite a few sleepless nights… but it was totally worth it!
| | |
| --- | --- |
| <- Hope for Animals and Their World | James and Other Apes -> |