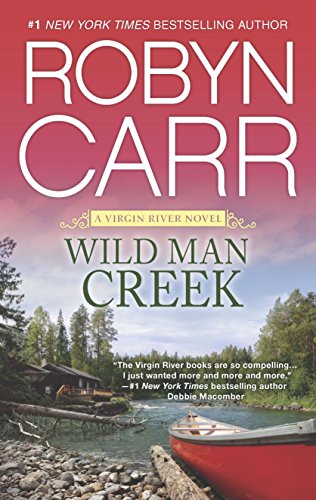 Title: Wild Man Creek
Author: Robyn Carr
Series: Virgin River #12
Rating Out of 5: 5 (I will read this again and again and again)
My Bookshelves: Contemporary, Contemporary romance
Dates read: 10th – 13th July 2021
Pace: Medium
Format: Novel
Publisher: Mira
Year: 2011
5th sentence, 74th page: Of course she had no idea how authentic the seeds were or how the finished fruit or vegetables would taste, but this was the first step – seeds were available.
Welcome back to VIRGIN RIVER with the books that started it all…
Sometimes love takes root in unexpected places – if you'll only let it grow
Colin Riordan came to Virgin River to recuperate from a horrific helicopter crash, the scars of which he bears inside and out. His family is wonderfully supportive, but it's his art that truly soothes his troubled soul.
Stung personally and professionally by an ill-advised affair, PR guru Jillian Matlock has rented an old Victorian with a promising garden in Virgin River. She's looking forward to cultivating something other than a corporate brand.
Both are looking to simplify, not complicate, their lives, but when Jillian finds Colin at his easel in her yard, there's an instant connection. And in Virgin River, sometimes love is the simplest choice of all…
There is something about the Riordan brothers that you honestly can't help but love. They're such a wild bunch of Irish lads, but they all have this amazing, honest core that makes you fall head over heels from them from the very beginning. Colin is one of the brothers that is barely mentioned (until you get to Promise Canyon), and I loved finding out a whole lot more about him. Now, there's only one left… and I can't wait to get to his story later either!
Jill's brief appearance in Promise Canyon, along with her sister and two friends definitely drew me in and intrigued me. The more that I found out about Jill, and her impulsive tendencies, the more I fell in love with her. There was just something so lively and filled with gumption about her that made me unable to look away and stop diving further and further into her story. plus, who doesn't like the idea of leaving behind your life and starting a whole new one? And one farming? I tell you, I have frequent daydreams about it.
I love that Colin and Jill's story is kind of unique in that there are no outer influences who are trying to make them reunite. Rather, it is Colin's own realisation and maturity that helps him to realise what is right and good. There were no huge dramas, and I kind of needed that. After all, I read this while on holidays and pregnant – I didn't want anything that could make me cry. I just wanted easy and happy. This is exactly that kind of story.
As with all of the other Virgin River stories, there are a number of cast members and side stories that help to draw you in. You get to visit with the other Riordan's again and again. The rest of the town and just fall in love with everyone again and again. There is always something so peaceful about revisiting this well-loved place. And it doesn't make me want to quit my job and live off the land in the country at all…