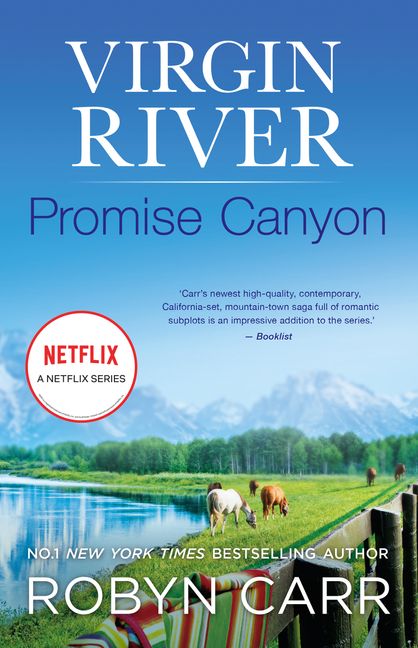 Title: Promise Canyon
Author: Robyn Carr
Series: Virgin River #11
Rating Out of 5: 5 (I will read this again and again and again)
My Bookshelves: Contemporary, Contemporary romance
Dates read: 6th – 10th July 2021
Pace: Medium
Format: Novel
Publisher: Mira
Year: 2010
5th sentence, 74th page: But they ran to him when he arrived.
Welcome back to Virgin River with the books that started it all…
After years spent on ranches around Los Angeles, Clay Tahoma is delighted to be Virgin River's new veterinary assistant. The secluded community's wild beauty tugs at his Navajo roots, and he's been welcomed with open arms by everyone in town – everyone II except II Lilly Yazhi.
Lilly has encountered her share of strong, silent, II traditional II mean within her own aboriginal community, and she's not interested in coming back for more. In her eyes, Clay's earthy, sexy appeal is just an act used to charm wealthy women like his ex-wife. Lilly can't deny his gift for gentling horses, but she's not about to let him control her. There's just one small problem – II she II can't control her attraction to Clay.
But in Virgin River, faith in new beginnings and the power of love has doors opening everywhere…
It'd been a little while since I've had the chance to return to the beautiful world of Virgin River. And, honestly, it was about damn time. I've been hanging to throw myself back into this beautiful series. And for the first time in a long time, I actually stayed up past my bedtime reading. I mean, it was a weekend, but still it ft wonderfully indulgent.
I was honestly surprised that this story featured two Native Americans. Pleasantly so, but most of the Virgin River books so far haven't really had culture and tradition as a huge part of the characters' background. I really enjoyed this idea! I mean, I'm completely ignorant if these Peoples. But I enjoyed the glimpses I found in Lilly and Clay of how their background constructed their identities.
The bonding over horses for Lilly and Clay really hit my happy spot. I love any story staring animals, and, although I'm not really a horse person…. I appreciated their presence. Plus, it was more than just a story about moving on from the past and falling in love. It was one about falling in love with an animal and all of the comforts that brings.
What I like to think of as the "core cast" was very much present in this story as always. Whilst it was Lilly and Clay's tale, I was also the town's… just as it should be. Having all the familiar faces and some teasing hints of new ones really felt like coming home… and luckily I have the next novel, Wild Man Creek, all ready to go in my hot little hand…