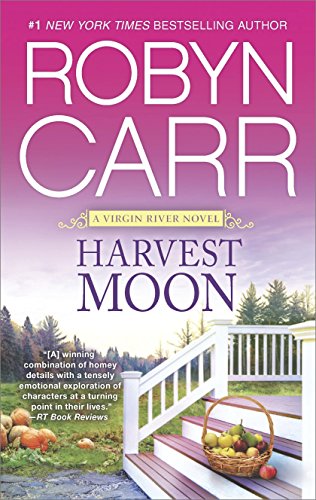 Title: Harvest Moon
Author: Robyn Carr
Series: Virgin River #13
Rating Out of 5: 4.5 (Amazing, but not quite perfect)
My Bookshelves: Contemporary, Contemporary romance
Dates read: 21st – 26th July 2021
Pace: Medium
Format: Novel
Publisher: Mira
Year: 2011
5th sentence, 74th page: She's right outside.
Return to VIRGIN RIVER with the books that started it all…
The recipe for happiness:
making it up as you go along
Rising sous-chef Kelly Matlock's sudden collapse at work is a wake-up call. Disillusioned and burned out, she's retreated to her sister Jillian's house in Virgin River to rest and reevaluate.
Puttering in Jill's garden and cooking with her heirloom vegetables is wonderful, but Virgin River is a far cry from San Francisco. Kelly's starting to feel a little too unmotivated… until she meets Lief Holbrook. The handsome widower looks more like a lumberjack than a sophisticated screenwriter – a combination Kelly finds irresistible. But less appealing is Lief's rebellious stepdaughter, Courtney. She's the reason they moved from LA, but Courtney's finding plenty of trouble even in Virgin River.
Kelly's never fallen for a guy with such serious baggage, but some things are worth fighting for. Besides, a bratty teenager can't be any worse than a histrionic chef… right?
One of the things that I love about the Virgin River series is that there is always a bit of a brief hint or introduction to the romance in the next story. It just makes you want to pick up the next book so much more – because you've already begun to feel partly invested within the relationship in the first place. You knew that Kelly and Lief were going to be a match at some point – they had their little stunning moment of realisation in Wild Man Creek. It was subtle, but it was enough to draw me in and leave me feeling somewhat intrigued.
Pulling in a struggling teenage daughter and the death of a mother really helped to raise the stakes in this story. In fact, I found it a little hard at moments to read this. I seriously felt for Courtenay and Lief – they'd not only lost someone, but were struggling to find their new way in the world. I loved that Carr was able to write from both perspectives – you understand why Lief is so confused and hurt by Courtenay's decisions and actions. But you also get why she's acting the way that she is. And, ultimately, she's a teenager – they're not exactly the most well balanced of people.
Reading this story honestly made me hungry. Food was such a centre point of Kelly's life that every moment made you want to… well, eat. It was filled with so much delicious morish-ness that I honestly needed a snack for most of the reading of this. And, I kind of need one now that I'm writing my review the morning after finishing this…
I probably didn't quite connect to Lief and Kelly as much as some of the other Virgin River couples (hence the fact that it lost 0.5 stars for me). But I did still love and enjoy them. I liked how their challenges were totally unique to the others within this series. normally by the thirteenth book in a series, it starts to feel a little same, same, but that isn't the case with the Virgin River series. Every relationship, every romance, every challenge feels new and fresh.