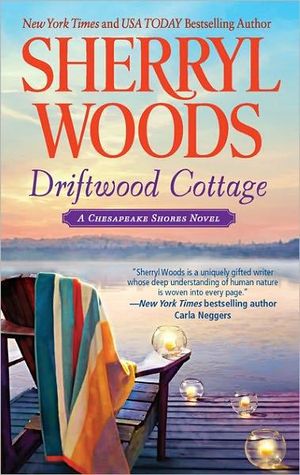 Title: Driftwood Cottage
Author: Sherryl Woods
Series: Chesapeake Shores #5
Rating Out of 5: 5 (I will read this again and again and again)
My Bookshelves: Contemporary, Contemporary romance
Dates read: 14th – 18th July 2021
Pace: Medium
Format: Novel
Publisher: Mira
Year: 2011
5th sentence, 74th page: A tap on the front door had her glancing up to spot Connor with their son in his arms.
New York Times bestselling author Sherryl Woods again brings her signature heartwarming style to the community of Chesapeake Shores
Single mom Heather Donovan's dreams of home an dfamily are tantalizingly within reach when she settles in Chesapeake Shores. The welcoming arms of the boisterous, loving O'Brien clan embrace her and her son. But accepting their support seems to further alienate her son's father, Connor O'Brien. His parents' divorce and his career as a high-powered divorce attorney have left him jaded about marriage.
Then everything changes. Will the possibility of a future without Heather make Connor look at love and his career differently? Heather's just about given up on her old dreams – of love, of family and especially of Driftwood Cottage, the home she secretly wishes were hers. It's going to take a lot of persuasion – and some help from the O'Brien family – to make Heather believe that some dreams are worth fighting for.
Connor seemed like a bone head from the very beginning of A Chesapeake Shores Christmas. And, as you find out that he has a secret missus and a kid that he doesn't tell his family about… even more of a bonehead. But, as the story unfolded, you could understand Heather's love for him. Don't get me wrong, I didn't really change my bonehead opinion at all. But I did enjoy the story overall.
As someone who is pregnant and with a man that never plans to have a wedding, I found this story really intriguing. The premise that marriage is so important is always in the romances that I read. It's not necessarily something that I feel myself, but I do kind of like reading these stories which feature this kind of conflict. Our ever-changing social dynamics make it more acceptable (and less) to be unmarried and living together. Although this story ultimately ends in marriage, it was interesting.
Although I really and thoroughly enjoyed this story and like that it offered up some different opinions on marriage, it is also very much pro-marriage. In some ways, I did feel a little uncomfortable with the strength of conviction of the social world throughout it, I did like that it bought up an issue I often deal with. I mean, people aren't actually as understanding as you would hope about being unmarried – when they've found out that we're expecting after ten years together, the first comment is generally about a ring.
All in all, I think this Chesapeake Shores story hits me the closest as far as my own story. There were a number of moments throughout that I connected with quite strongly. Ones that made me sit back and go "huh". It was probably the book that's made me look at my own happiness in a relationship in such a long time. One that actually made me feel incredibly happy and content in my own relationship and life. And grateful that I have a man who isn't quite as boneheaded as Connor O'Brien.