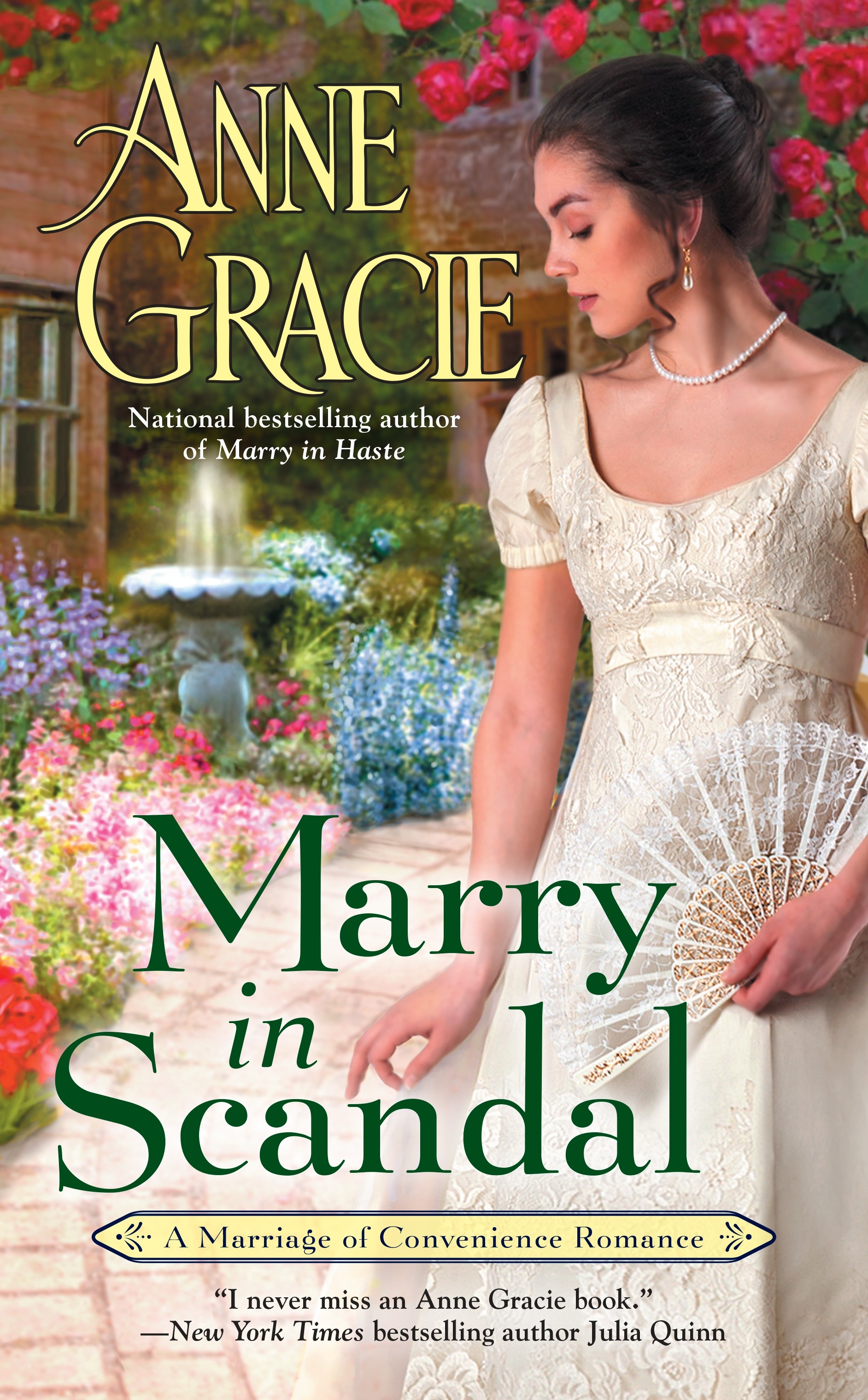 Title: Marry in Scandal
Author: Anne Gracie
Series: Marriage of Convenience #2
Rating Out of 5: 5 (I will read this again and again and again)
My Bookshelves: Historical romance, Regency romance
Dates read: 18th – 24th April 2021
Pace: Medium
Format: Novel
Publisher: Berkley
Year: 2018
5th sentence, 74th page: "No, of course not."
Shy, young heiress Lady Lily Rutherford dreams of true love and a romantic courtship. But when disaster strikes, she finds herself facing a scandal-forced marriage to her rescuer, Edward Galbraith, a well-known rake. In the gamble of her life, she agrees to marry him, hoping to turn a convenient marriage into a love match.
As heir to a title, Galbraith knows he must wed, but that doesn't mean he has to share his secrets with his tender-hearted young bride. When he spurns Lily's efforts to get close to him, she retreats to the place he's avoided for nearly a decade: his childhood home. To reclaim his new bride, Galbraith must confront the darkness of his past, face a future he never expected – and discover that love is the ultimate prize.
Lily had a great introduction as a character in Marry in Haste. Which meant that reading her novel was always going to be seriously looked forward to. Really, same as Rose and George, but they're next in line… I did wonder how Lily would get her happily ever after. And honestly, it was nothing like what I expected. Which I'm not really sure why that's surprising… that seems to be the trend with many of the stories that I've been reading lately.
Lily's greatest flaw and failure is hinted at in Marry in Haste – she can't read or write properly. It was interesting how this was built upon in Lily's story – after all, this is all set in a time that would make this seriously inconvenient and horrible. Yet, she is a great female lead. She is filled with patience and understanding, this great sense of hope and wonderful wisdom. Alright, she's also a little naïve. But that naivety stems from her hope that things will work out perfectly. I think that all of us jaded people could take a page out of her book…
Nixon and Sylvia were both brilliant and horrible villains in this tale. Which, ultimately is what a villain should be in my books. The poetic justice that they receive at the end is brilliant. It's bloodthirsty and kind of horrible. But it left me grinning (let's not think too deeply about what that says about my psyche)…
This is yet another great Regency romance – light, easy and fun. With just enough horribleness and intrigue to really pull you in and make it impossible to put down. Definitely falling for Anne Gracie's writing more and more with each story that I read.