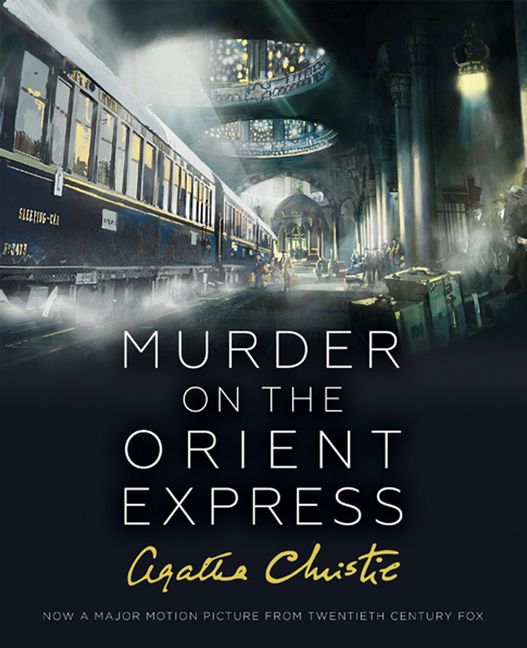 Title: Murder on the Orient Express
Author: Agatha Christie
Series: Hercule Poirot #10
Rating Out of 5: 4 (Really good read!)
My Bookshelves: Crime, Mystery
Dates read: 10th – 24th November 2020
Pace: Medium
Format: Novel
Publisher: Harper Collins
Year: 1934
5th sentence, 74th page: This is where I'm supposed to go all goosefleshy down the back.
'The murderer is with us – on the train now…'
Just after midnight, a snowstorm stops the famous Orient Express in its tracks. A passenger is brutally murdered, and the luxurious train is no longer a place of safety. Everyone is a suspect.
This illustrated edition contains the complete text of Agatha Christie's II Murder on the Orient Express, II together with 200 glorious production paintings and sumptuous photos from the new film, directed by Kenneth Branagh.
Wow. This was a pretty, seriously intense novel. I knew that it probably would be, considering it's so damn well-known and popular. But I really didn't expect… this level of awesomeness. Now I just desperately want more of these books on my shelves!
Recently, I've been watching some Agatha Christie movies with one of my clients. I can never guess who the culprit is in these (all except one thus far have come as a complete shock). This is such a wonderfully new experience for my crazy brain that I was looking forward to trying to match my wits to this storyline. And I couldn't predict this either, every time I thought that I might be beginning to put all of the puzzle pieces together… Christie threw another curveball my way. It was brilliant and wonderful.
One of the things about this story that I did struggle with was the amount of characters. I actually struggled to keep all of the pieces in my brain and keep track of who was who. What the motives were. What the evidence was… I've been assured that that's unique to this Hercule Poirot story, but it was certainly a little bit difficult. I'm just grateful that I had the movie edition of this book, so there were many pictures to help me sort out what exactly was happening…
The thing that I loved the most about this was that I just couldn't predict what was going to happen. This surprise, partnered with the humour and Christie's ability to completely change register and language style completely hooked me. I am most certainly in love with this and can't wait to get my hands on some more Agatha Christie novels…
| | |
| --- | --- |
| <- Lord Edgware Dies | Three Act Tragedy -> |