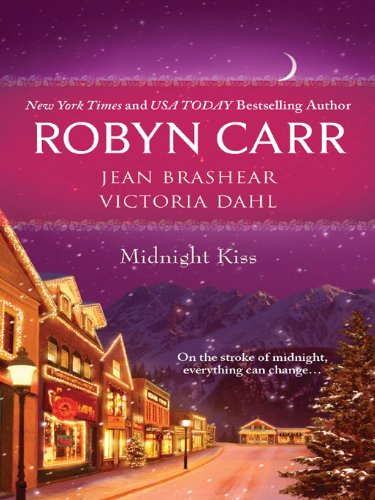 Title: Midnight Kiss
Author: Robyn Carr, Jean Brashear & Victoria Dahl
In: Midnight Kiss (Robyn Carr, Jean Brashear & Victoria Dahl)
Rating Out of 5: 5 (I will read this again and again and again)
My Bookshelves: Contemporary, Contemporary romance, Short story collections
Dates read: 29th September – 20th October 2020
Pace: Medium
Format: Novella
Publisher: Harlequin
Year: 2010
5th sentence, 74th page: "Uh-oh," she said.
THESE ARE NEW YEAR'S RESOLUTIONS WORTH KEEPING!
TAKE A RISK
At the inaugural New Year's Eve party at Jack's Bar, two lonely revelers decide the best balm for their broken hearts might just be each other.
FIND THE PERFECT WORK-LIFE BALANCE
When a flinty lawyer with a bad-boy addiction meets the quintessential nice guy, sparks fly that consume their expectations of life and love.
GET THOSE FINANCES IN ORDER
Working over the holidays on a messy bank takeover is made worse for two federal specialists by an ill-advised kiss that will never happen again … right?
This is a fun anthology that centres around the "magic" of New Years Eve. It's cute, filled with all the romance a girl could want and just generally enjoyable. Plus, I was able to find two new authors to add to my wish list… which is always a bonus when reading a fun anthology.
I must admit. I really don't get the whole New Year's Eve hype. There is just something seriously "meh" about the whole thing. And to be honest, completely ridiculous. I mean one night isn't going to change squat. But, I still loved how this collection used those kind of weird themes to create this story. I may not really get the hype… but I do love the stories.
Each and everyone of these stories finished with a New Year's Kiss. They were just so optimistic and full of hope. Just what a girl wants in a good contemporary romance anthology.