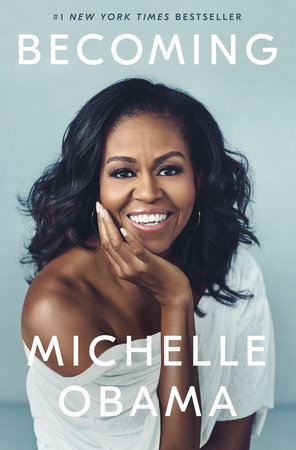 Title: Becoming
Author: Michelle Obama
Rating Out of 5: 5 (I will read this again and again and again)
My Bookshelves: Memoirs, Politics, Race
Dates read: 18th September – 11th October 2020
Pace: Slow
Format: Novel
Publisher: Penguin Viking
Year: 2018
5th sentence, 74th page: She had a wide-open smile and a slight island lilt in her voice that became more pronounced anytime she was tired or a little drunk.
There's a lot I still don't know about America, about life, about what the future might bring. But I do know myself. My father, Fraser, taught me to work hard, laugh often, and keep my word. My mother, Marian, showed me how to think for myself and to use my voice. Together, in our cramped apartment on the South Side of Chicago, they helped me see the value in our story, in the larger story of our country. Even when it's not pretty or perfect. Even when it's more real than you want it to be. Your story is what you have, what you will always have. It is something to own.
I am just completely, totally and utterly flawed by the awesomeness that is this book. To be honest, there aren't many books on a political figure that draw me in so completely. And ones that feature a woman? That's pretty much unheard of for me… partly that's my own "issue" where I just don't enjoy politics, politicians and anything of the sort all that much. But its also often hard to find something that is just so well written…
Obviously as the wife of Barack Obama, and the First Lady to his POTUS for so long, Barack was going to take a bit of attention and centre stage in this novel. But, what I really appreciated and loved was that he didn't take all of the spotlight. Even once Michelle gets to the part of her book in which she starts to explain their courtship and such… it's about her, not him. Which, in my opinion, is just how it should be – after all, the book isn't really Barack's book (I've read one of them, it's good).
Although this is fairly centred around the American political system (which, as an Aussie I just find fucking WEIRD), I loved how it talked about women and their many different hats and roles that they must juggle. Michelle is no different to many working mothers – alright, there's extra scrutiny and security… but still. I love how she talks about that path to finding what you love. How you juggle that with two young children, an incredibly driven husband… all of the things that I think many women often come up against. I know that these are issues that I seem to be facing in my life at the moment…
As I said before, I find American politics, culture, and pretty much everything super weird. Although you could probably say that people think the same thing about Australian culture… but the way that Michelle writes her memoir makes it somehow that much more accessible. I may still have zero interest in ever setting foot in the country, but at least Michelle's words made it feel somehow more "real"….