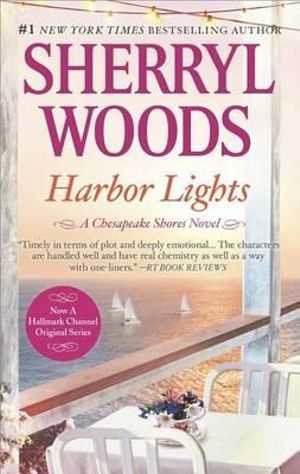 Title: Harbor Lights
Author: Sherryl Woods
Series: Chesapeake Shores #3
Rating Out of 5: 5 (I will read this again and again and again)
My Bookshelves: Contemporary, Contemporary romance
Dates read: 20th – 21st July 2020
Pace: Medium
Format: Novel
Publisher: Mira
Year: 2009
5th sentence, 74th page: His father's belated transformation was hard to buy, but there was at least some evidence to support it.
Struggling in his role as a newly single father, former army medic Kevin O'Brien moves home to Chesapeake Shores. He wants a haven for himself and his toddler son, surrounded by the family he knows he can count on, and a future that's nothing like his past. But Kevin is suddenly facing a risk he hadn't anticipated, in the form of Main Street bookseller Shanna Carlyle.
Shanna immediately recognizes Kevin as a wounded soul – she's had way too much experience with the type. Still, this charming O'Brien man and his son are almost impossible to resist.
Then, just when the barriers are toppling, someone from Shanna's past appears. Confronted with a threat to their hard-won serenity, Kevin and Shanna face their toughest challenge – learning to trust again.
From the very outset of this novel, and from her introduction in Flowers on Main, I knew that Kevin's wife was going to die. And it was kind of tragic. But also something that I was gleefully anticipating… there's not enough of her to become attached to. And I mostly just really wanted to get started on Kevin's life and journey. Some of the extra complications of their relationship were not foreseen though. Which made the whole story all that much more intriguing.
As much as the loss of his wife makes Kevin's backstory and the complications he brings to the relationship is a little sad. It is Shanna's backstory which was really heart breaking. No wonder she had so many hang ups. But she was also one of the sweetest, kindest characters that I've read in a while. I love all of that softness and tenderness that she brings to the story line.
Most love stories which are of this calibre are all about finding a second chance and moving on from the past. This is partly what happens in this novel. But, mostly, it is about hope and finding a way to have their own happily ever after. It's about moving on and carving out a life for yourself after your heart and life has been shattered.
This was a more complex romance than what I've been reading lately. But it was what I seriously enjoyed about this. I love that there were many, many moments of difficulties and emotions. Not something that I always find in a good romance. It was a story that made you hope / think that no matter what horrible things happen… there is always the chance of creating a new happily ever after for yourself. In spite of everything that may go wrong.