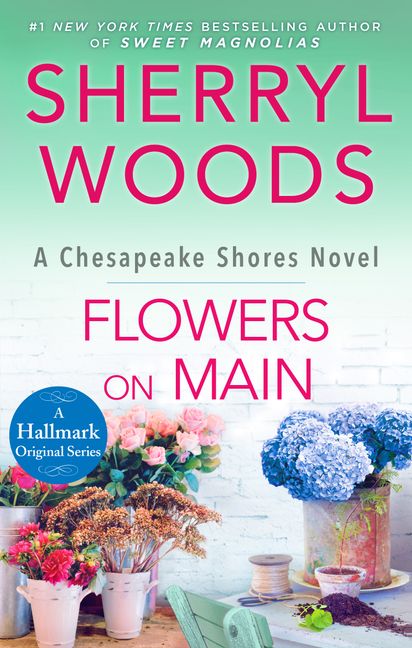 Title: Flowers on Main
Author: Sherryl Woods
Series: Chesapeake Shores #2
Rating Out of 5: 5 (I will read this again and again and again)
My Bookshelves: Contemporary, Contemporary romance
Dates read: 19th – 20th July 2020
Pace: Medium
Format: Novel
Publisher: Mira
Year: 2009
5th sentence, 74th page: Nell said, sounding vaguely wary, but definitely not surprised.
When her last two plays are dismal failures and her relationship with her temperamental mentor falls apart, writer Bree O'Brien abandons Chicago and the regional theater where she hoped to make a name for herself to return home. Opening Flowers on Main promises to bring her a new challenge and a new kind of fulfillment.
But not all is peaceful and serene in Chesapeake Shores, with her estranged mother on the scene and her ex-lover on the warpath. Jake Collins has plenty of reasons to want Bree out of his life, but none of those are a match for the one reason he wants her to stay: he's still in love with her.
Jake might be able to get past that old hurt if he knew Bree was home to stay, but is she? The only way to know for sure is to take a dangerous leap of faith.
Bree is the quiet, lovely O'Brien sister. So I seriously looked forward to reading her story. After all, she's the quiet sane sister. And sometimes they're the ones that are the most ridiculously fun. Particularly when you begin to find out about the things in her past which made her run. And the lead man in this story? Jake… he's just gorgeous. And underhanded. And wonderful.
There seems to be a bit of a recurring theme in the Chesapeake Shores books so far… that of reigniting love; second chances; and getting rid of naysayers. I love the idea that even though there have been bad moments in the past, there is always a chance for redemption. For Abbey it was walking back to the life that she said goodbye to. But, for Bree, it was so much more intense and complicated. The fact that Bree and Jake were able to get over their own past… it gives you hope for the future. Or at least, it gives me hope.
I love that one of the obstacles to the relationship in this novel were due to, in part, needing to just grow the hell up. And, you know, get over the past and find a way into the future. It's something that I think we all sometimes need to keep in mind. And, as someone, who has been in a relationship since I was in my teens… I can completely understand both sides of the conflict in this… which is probably what I enjoyed so much about Woods' writing in this novel – it was realistic in its approach to emotions and feelings.
After finishing this novel, I weirdly really want a flower shop. I have no idea why. As much as I enjoy flowers – I'm not great at growing them, and I've never tried to arrange them. This is another one of those stories that act as a fantastic reminder that having an insanely high-powered career isn't necessarily going to make you happy. And that giving up such a thing can sometimes lead to never-ending happiness.