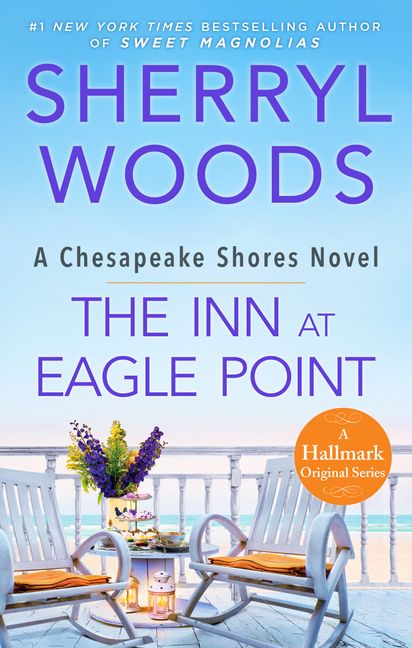 Title: The Inn at Eagle Point
Author: Sherryl Woods
Series: Chesapeake Shores #1
Rating Out of 5: 5 (I will read this again and again and again)
My Bookshelves: Contemporary, Contemporary romance
Dates read: 15th – 17th July 2020
Pace: Medium
Format: Novel
Publisher: Mira
Year: 2009
5th sentence, 74th page: If she had, Abby would have stayed far, far away from the bank.
It's been years since Abby O'Brien Winters set foot in Chesapeake Shores. The Maryland town her father built has too many sad memories and Abby too few spare moments, thanks to her demanding Wall Street career, the crumbling of her marriage and energetic daughters. Then one panicked phone call from her youngest sister brings her racing back home to protect Jess's dream of renovating the charming Inn at Eagle Point.
But saving the inn from foreclosure means dealing not only with her own fractured family, but also with Trace Riley, the man Abby left ten years ago. Trace can be a roadblock to her plans… or proof that second chances happen in the most unexpected ways.
What a beautiful start to a beautiful series. It's cute, it's quaint and it's everything that I love in a good contemporary romance series. Particularly since I seem to be drawn to the series which feature older adults now. And second chance love stories. And people with a ridiculous amount of history that makes you go yup… we all have a bit of a tough time in life… but there's hope!
I really liked that there was this slow realisation in Abby throughout this story that divorce is a two-way street and that it's not all her own fault. That even though Wes doesn't seem like a totally terrible guy… he's still kind of a dick all the way throughout. He was one of those villains that I really didn't like… but I also didn't completely hate. I just thought he was a bit of a petulant child. And I loved that Abby also came to this same realisation… it highlighted the idea of second chances and understanding not only other people again, but yourself.
The driver for the beginning of this series is all about sisterly love. It's strong, it's annoying and it's complex. I know. I have an annoying little sister. One that I love dearly, don't get me wrong… but still annoying at times. I loved how Woods was realistic about the annoyance of siblings and how intertwined we all are in each others' lives. It just made the whole story more fun and, honestly, cute. Again, Wes' silliness also highlighted that you should really never get between sisters… you'll always loose.
This isn't just a romance. It's a great tale about family, children, and second chances. Not only is it about Abby and Trace finding a second chance and a life and love that suits them. But it's also about healing wounds in family and taking a second chance on them. Even as the next generation grows to make their own bull headed mistakes…