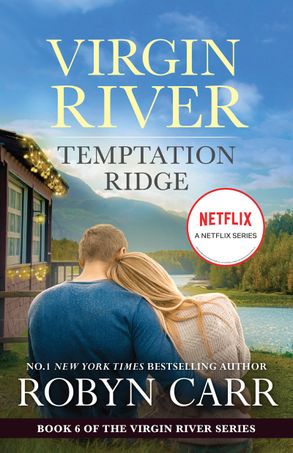 Title: Temptation Ridge
Author: Robyn Carr
Series: Virgin River #6
Rating Out of 5: 5 (I will read this again and again and again)
My Bookshelves: Contemporary, Contemporary romance
Dates read: 2nd June 2020
Pace: Medium
Format: Novel
Publisher: Mira
Year: 2009
5th sentence, 74th page: A man walked past them, glanced at them, smiled slightly and moved on.
Welcome back to VIRGIN RIVER with the books that started it all…
Shelby McIntyre has big plans – plans that include finding Mr. Right. Her dream man will have a clean-shaven jaw, creases in his pants and hopefully an advanced degree. What she gets is rugged Luke Riordan.
At twnety-five, after five years as her mother's caregiver, it's time for Shelby to experience freedom and adventure. Time for travel, college and romance. But when she visits Virgin River, she runs into Luke Riordan, decidedly not whom she has in mind.
A handsome Blackhawk pilot, Luke exited the army after twenty years, four wars and having been shot out of the sky three times. At thirty-eight he's tough and jaded. His major was in one-night stands, with a minor in commitment avoidance.
Technically, these two are all wrong for one another. But sometimes what you wants and what you need are two different things… two very good things.
Shelby and her somewhat tragic circumstances are first introduced in Second Chance Pass. So when I found out that Temptation Ridge is all about Shelby and her happily ever after… I was really happy. Particularly when she had just recently lost a mother to ALS. THAT hit quite close to home… so I needed there to be a happy, the world doesn't suck story for Shelby. And, thank goodness… I got it!!!
Luke is that typical trope of bad boy with commitment issues. The one that when the right girl comes along, changes his stripes and they get their happily ever after. It's not exactly realistic and it's kind of cliché. But it does work. Particularly when you have a storyline in which the woman is a virgin and he's about ten years older than her. Yet, it works. And I didn't find it painful like I do with some cliché tropes… even then, when he's making mistakes and stupid decisions because he's decided what is best for Shelby without talking with her… it made me scream moron. Just a little bit.
Having said that, I did love the ending. I loved how Shelby's strength and power are shown. And that even though her virginity is kind of a big thing to some in the story – it wasn't really an issue with her. It's one of the few stories that has an older virgin in which the tale isn't tedious. She isn't saving herself, she isn't treasuring something that really has no meaning. She's just not had the opportunity. And she doesn't feel that she needs to "experience the world" before she falls in love. Like I said, seriously not tedious.
This story also has a great romance begin for another of Shelby's family members. Walt gets to start moving on with his life. I love that this is a series that features a romance, and a sexual relationship between a couple that is in their 50's and 60's. It's a reminder that relationships are constantly evolving. No matter how old a person is. And it helps to build on the ensemble cast of this series – an ensemble which features people of all ages, sizes and walks of life. Which just melted my happy little heart.