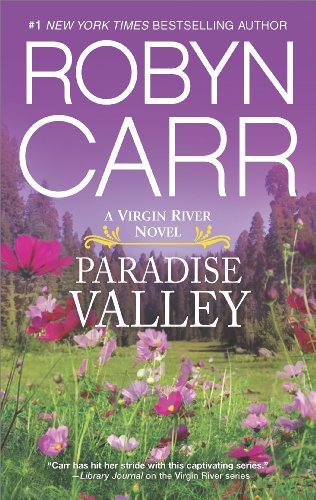 Title: Paradise Valley
Author: Robyn Carr
Series: Virgin River #7
Rating Out of 5: 5 (I will read this again and again and again)
My Bookshelves: Contemporary, Contemporary romance
Dates read: 9th June 2020
Pace: Medium
Format: Novel
Publisher: Mira
Year: 2009
5th sentence, 74th page: He picked Jack up and got him to safety.
A moving story about survival, forgiveness – and the power of love to heal a wounded spirit
Marine corporal Rick Sudder is home early from Iraw – his tour ended abruptly on the battlefield. The carefree boy is gone, replaced by a man who believes his future is as bleak as his mirror image. But can the passion and commitment of a young woman who has never given up on him mend his broken body and shattered heart?
As the people of Virgin River rally around Rick, another recent arrival tests the tightly knit mountain town's famous welcoming spirit. Dan Brady has a questionable past, and he's looking for a place to start over. He'd like it to be Virgin River… if he can find a way in. But he never expects to find it in the arms of a woman who was as much an outcast as himself.
For a favorite son returned from war and an outsider looking for a home, Virgin River offers them a chance to make peace with the men they once were… and to find the dreams they thought they'd lost.
From the blurb on the back cover of this book, and a few of the comments from reviews that I saw. I was honestly expecting this novel to be kind of tragic. At a time when I really wasn't all that in the mood for tragic. Luckily, however, I was completely wrong. This isn't tragic. It wasn't horrible to read. And yes, there are bad moments throughout (which in my opinion makes it a good book), but in the end, there was that same sense of peace, hope and realism that I always seem to get from the Virgin River books.
I've been waiting and waiting for more of a movement in Rick and Liz's relationship. They start off so young and there are so many tragic moments. And, although, even at the conclusion of this story they haven't quite figured everything out, it was nice to have a whole novel focused on them. Even the secondary character, Brady has a lot to do with Rick and Liz's story that I seriously didn't expect. I also loved the final reveal of how his story is so intertwined with Rick's towards the end. It was an entertaining scene and a thoroughly enjoyable moment.
All throughout this story, and the greater series, I have loved the whole set up of this storyline. It starts off with one couple. And, instead of focusing on the next couple as the story evolves, there is this journey in which each story builds upon the past couples and stories, whilst also adding in a new couple to get hopelessly intertwined with. It's such a great way to tell a story. And a unique way to share a romance. And, as the series develops, I'm finding that even though Paradise Valley is mostly about Rick and Liz, with Brady's story built in… it is also about all of the others that I've fallen in love with. With hints of more beautiful little stories to come!
I enjoyed this so much and already felt so attached to Rick and Liz that I managed to read this whole book in just one sitting. I don't even remember pausing to eat dinner. Even though I'm sure that I must have… it seemed to completely speak to me at a time that I needed a story like this. Wonderfully powerful and enjoyable, whilst reminding me of all of the good things in life. A great, surprisingly positive contemporary romance that left me with all the happy feelings I'm getting used to with Robyn Carr's writing.