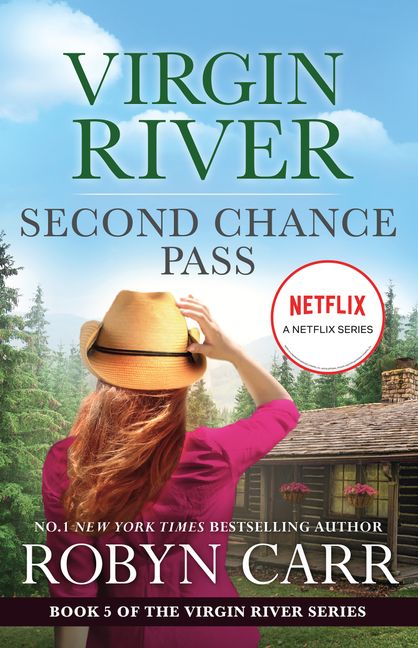 Title: Second Chance Pass
Author: Robyn Carr
Series: Virgin River #5
Rating Out of 5: 5 (I will read this again and again and again)
My Bookshelves: Contemporary, Contemporary romance
Dates read: 23rd – 28th May 2020
Pace: Medium
Format: Novel
Publisher: Mira
Year: 2009
5th sentence, 74th page: And I didn't call on purpose.
Welcome back to VIRGIN RIVER with the books that started it all…
The community of VIRGIN RIVER saw Vanessa Rutledge through her darkest days – now she's looking to a bright future.
In the space of a few months Vanessa buried her husband, Matt, and gave birth to their son – breaking her heart while filling it with a whole new kind of love. But the one man she longs to share this love with now acts as if she doesn't exist.
Paul Haggerty lives by the marine motto: Semper Fi. Ever faithful to his best friend, he's done right by Matt's widow as best he can… considering he's been secretly in love with her for years. Now, just as he's about to make his move, another woman has staked her claim on him – a claim that will be tough to escape.
With courage, humility and not a little meddling from the good folks of Virgin River, Vanni and Paul might just get a second chance to have the love they both desire and deserve.
It was nice to finally get to read about Vanessa and Paul. The beginnings of their story is told in Whispering Rock and you automatically start hoping that they will end up together… I really wasn't expecting so many different highs and lows throughout this story though. And I kind of loved it. It was brilliant and made the whole story impossible to put down.
So far throughout the Virgin River series all of the books have been bit of an ensemble story. But, this took that ensemble feeling to a whole new level. I thought that this would be all about Vanni and Paul, but they quickly resolve their issues, and although there are still a few hurdles to overcome, there are so many other characters who take centre stage throughout the storyline. Each chapter almost has its own lead and mini story.
There were a few moments in this novel that made me kind of want to throw the book out the window. Mostly because Vanessa and Paul are as stupidly stubborn as each other. And there were so many moments that I wanted to reach through the pages of this book and smack them both over the head. I mean, gosh, you make mistakes, and then you should be able to fix them. Not have to run around feeling confused and maybe screwing it all up. Luckily, there were only a few of these moments, and then everything worked out well. But wow, were some of them heart stopping.
Second Chance Pass is a fantastic novel. Although it is mostly about Paul and Vanessa, there are so many great characters that continue to make an appearance. Side stories and main stories that are impossible to forget. Stories that make your heart beat faster and hold your breath at times. At others, the side stories just melt your heart and leave you feeling beautifully, ridiculously happy that you had the pleasure of spending a day in the gorgeous town of Virgin River.